A special Guest lecture on "Career Avenues for Life Science Students"
Posted by

Categories

Events

Date

May 28, 2022
PREAMBLE
Choosing what to study after B.Sc is a critical and career-defining decision. Unfortunately, too many students begin career planning at the last minute and end up choosing paths that are popular, but not suited to their aptitudes. Therefore, it is important to begin early and to know what options lay ahead of you after their degree so that they can make an intelligent and calculated decision. Students often miss out on potentially great career choices due to lack of timely information.
OBJECTIVES
Help learners plan and make informed choices in their education and career.

To provide insights on various opportunities available for pursuing higher education in relevant fields of life sciences.
PROFILE
Dr.Raghu Ram Achar has 9 years of experience in research and teaching. Presently he is working as an Assistant Professor in Biochemistry at JSS Academy of Higher Education & Research, Mysuru.
He is an expertise in scientific communications and has reviewed many Science Journals. He has more than 27 publications with (Articles=21, H-index=4, Citation Index=72).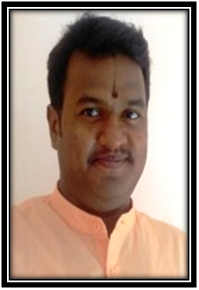 Research grants:
"Targeting TSPO with ligands to check their efficacy on mitochondrial cholesterol uptake." Sum of Rupees fifty Thousand, funded by JSS AHER Seed money.

"Studies on wound healing action of laticiferous plant Melia dubia." Sum of Rupees Twenty Four Thousand funded by JSS AHER Seed money.
Member of Organizing Committee/ Achievements:
Dr. Raghu is involved in 16 organizing committees few are mentioned below
Member, BoS, UG, School of Life Sciences, JSS AHER, Mysuru

Member, BoE, Integrated M.Sc., Molecular Biology, Yuvaraja College, Mysuru

Joint Organizing Secretary for International Webinar "The Career Catalyst: Plan, Prepare & Prosper in Life Sciences" organized on 9th and 10th May 2021.

Organizing Secretary for National Webinar on "Alternative Careers in Life Sciences" organized on 22nd July 2020.

Organizing Secretary for World Food Day event as a part of NSS activity on 16th and 17th October 2020.

Organizing Secretary: One Day Workshop on Intellectual Property Rights in Life Sciences in association with S&H partners, Bangalore on 5th November, 2019.
Training/Workshops
He has attended more than 13 workshops and 19 Conferences.
About the Lecture:
The session started with a welcome note and compeering by Mr. Nicholas Fernandes, Assistant professor in Department of Biochemistry. Ms. Blessy George, HOD of Department of Biochemistry, further addressed the gathering and introduced the speaker. The session was then continued by the eminent speaker, Dr. Raghu Ram Achar, Assistant professor in Department of Biochemistry.
He gave a brief introduction by quoting James Clear 'many people think they lack motivation when what they really lack is clarity'. The session continued with a fun filled activity by mapping various life-science job choices that students proffered. Furthermore, he classified the jobs into classic and non classic jobs. He explained how non classic job choices were easily ignored. He briefed each and every job choices and enlightened us about various fields.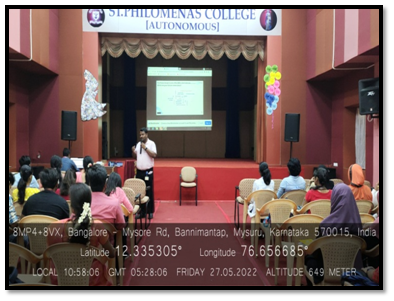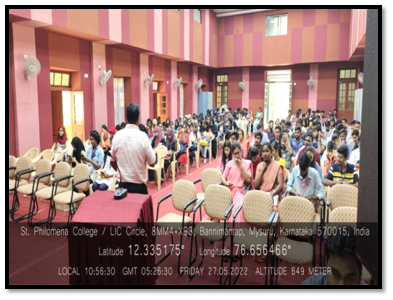 The session ended with a poll on how many were going to select academic job or non academic job or if it was not decided, incidentally students were still figuring out on what they should select. Feedback about the session was given by students, expressing gratitude as they were all intrigued by the talk. Ms. Lima Jasmine bid vote of thanks by reminiscing the inspiring lecture. All staff members felicitated the speaker and Ms. Dorothy, HOD of Department of Botany thanked the speaker.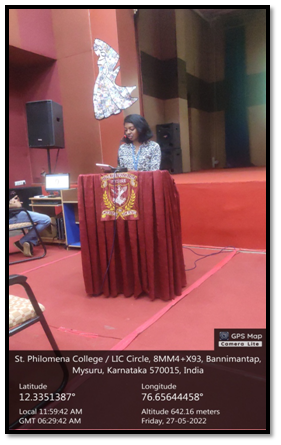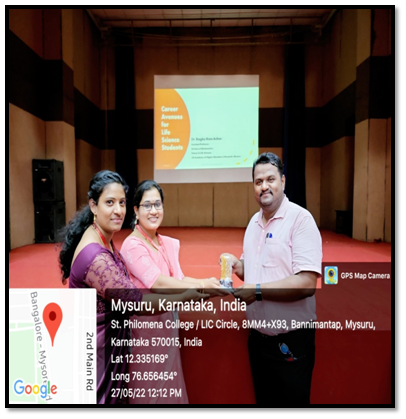 Feedback
The audiences were satisfied by the session which provided them with an insight about various job opportunities.
Outcome:
The lecture was a thought provoking one for the students and emphasized on the importance of a long term goal and the things to be kept in mind while achieving it. The students gained information about various opportunities available to them after their graduation. As the students at a juncture where they will take major decisions about their career choice and higher education the knowledge learnt for the lecture will prove to be extremely useful. The final take away from the lecture is a career choice should always focus on the happiness and satisfaction one achieves at the end of the day rather the focus being mainly on the monetary benefits one reaps out of it.