Mysore Diocesan Educational Society (MDES) is a Registered Society, constituted to administer, manage and co-ordinator the  effective, efficient and smooth functioning of institutions started in the Catholic Diocese of Mysore. It is one of the best known Catholic Educational Societies promoting the cause of Educational Ministry even in the remote villages of  Karnataka. Even prior to 1966 and the registration of the Mysore Diocesan Educational Society, many institutions were started and administered by our diocese directly.
Presently MDES administers 130 institutions from Nursery to Post – Graduation levels in the four districts of Karnataka namely Mysore, Mandya, Kodagu and Chamarajanagara.This year ,being the golden jubilee year, we celebrate and commemorate what MDES has accomplished in the field of education through its yeoman service which has borne rich dividend touching the lives of more than a lakh of students and transforming them and bringing about visible progress, not just in cities but also in remote rural areas. Our alumni have crossed boundaries and borders and have left their indelible mark in different sectors.
It is with great pride and a sense of satisfaction that we have the newly opened institutions during the year 2016, they are St. Joseph's College for women at Sathagalli (Commerce and Arts), St. Joseph's Evening College at Jayalakshmipuram (Commerce and Arts), St. Joseph's Nursery and class XI at Yelwal and St. Joseph's at Rajivnagar, Mysore.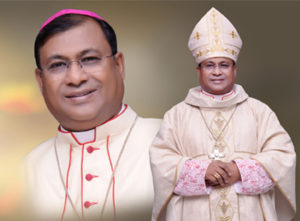 Most Rev. Dr. K. A. William
Bishop of Mysore Diocese President of MDES
Rev. Fr. Vijay Kumar
Secretary MDES
---