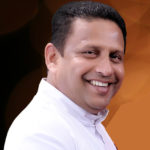 Dear All,
I am happy and proud to welcome you to our college website www.stphilos.ac.in.
St Philomena's College, Mysuru, a premier institution, enjoys a reputation for outstanding performances in academics, sports and extra-curricular activities. Also, with a long and rewarding history of achievements in higher education behind us, our college community continues to move forward with confidence, sense of pride and enthusiasm.
A precious seed has prospered into a fundamental, honourable tree and we are fortunate to witness the progress of St Philomena's College  today. The college is guided by the visionary zeal of providing value-based education to everyone irrespective of religion, caste, creed or sex by which the character is formed, intellect is expanded and one can stand on his/her own feet.
I am deeply impressed by the commitment of the college staff to the growth of an excellent all- round education. The college has been enjoying the total autonomous status for the last several years has recently been granted an extension of the same for a period of five years (2017-18 to 2021-22).
The excellent facilities of our college are in a continuous process of upgradation. Students are provided with avenues and facilities to develop an overall personality. Many students have fetched laurels in curricular, co- curricular and extra- curricular activities. I am sure, both our staff and students will always strive hard to uphold the dignity of our college and keep its flag ever flying high by promoting a society based on love, freedom, liberty, justice, equality and fraternity. The college is ever dedicated to form young men and women of competence, commitment, conscience and compassion. Here, at St Philomena's College we advocate social justice, harmony and solidarity, we appreciate cultural pluralism and diversity, we also care for the marginalized and disadvantaged and we equally manoeuvre the protection of the natural environment.
I personally believe in non-close door –friendly and congenial atmosphere among all sections of the college community, be it teaching, non- teaching or the students. All problems and issues will be openly discussed and reached to a healthy solution.
I hope you enjoy your visit to the website and should you wish to contact us, please find details at contact page.
Rev. Dr. Bernard Prakash Barnis
Rector/Manager