B.S.W under Choice Based Credit System (Six Semesters) Self Financing Course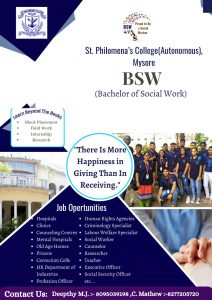 Eligibility
Pass in Pre-University Course of Karnataka State or any other equivalent qualification.
VISION:
Be the change you want to see in the world.
MISSION:
Changing the mindset of the students.
Make them more people centric.
More out reach program.
Reach the people.
GOALS:
Graduate competent (based on CSWE Foundation Competencies
and Practice Behaviors) BSW level social work professionals
Prepare graduates for entry-level employment in generalist social
work practice positions
Prepare students for entry into graduate school and stimulate
engagement in regional professional development activities
Prepare students for state/national examination for certification
as entry-level social workers
The Social Work Department caters to the holistic development of students as professional social workers in theory as well as practical knowledge making them competent in three specializations; Clinical Social Work, Human Resource Management and Community Development.
Social workers are typically civic-minded individuals with an excellent ability to relate with extremely diverse group of people. Social work grew out of humanitarian and democratic ideals. Its values are based on respect for equality, worth and dignity of individuals and groups.
WHY BSW IS DIFFERENT FROM OTHERS COURSES
Learning from the Field St. Philomena's college, Mysore fosters a learning emphasizing practical knowledge along with theory. It has become a reality through several of its programmes oriented towards giving students a practical exposure from the field.
Continuous Field Work: As a part of the course students are required to practice theory in relevant settings for a period of 1 month every semester continuously which contributes to their knowledge and experience as well as benefits the agency.
Summer and Block Placement: A four week practice learning placement in a specialized setting during VI semester aimed at providing a first-hand experience in their respective areas of specialization.
Orientation Visits: Students are taken to visit various organizations significant in the aspect of social work practice in 1st and 2nd years respectively, which serves the purpose of inducting them into the field.
Rural Camp: A week's camp in a rural setting is organised to give students an exposure to the rural life of India.
Excellence in Academics: St. Philomena's college has added to the value of Social Work education and its innovative practices by ensuring that students avail updated information.
Access and Extensive use of Social Work Research Studies: The access to online journals and other significant publications from the library and its extensive use in classes and assignments help students to be updated with the recent trends in social work theory.
Networking with NGO's: Programmes hosted by the department like NGO Mela and Field work practitioner's Meet helps students maintain networks with several NGO's.
BSW CAREER OPPORTUNITIES
You become ACADEMICIANS and RESEARCHERS in the field of social work profession.
You work as LABOUR WELFARE OFFICERS, HR MANAGERS in the PUBLIC, PRIVATE AND CORPORATE SECTORS.
You make a career in HOSPITALS, CLINICS, CORPORATE, COUNSELLING CENTRES, MENTAL HOSPITALS, OLD AGE HOMES and similar institutions.
You work in PRISONS and CORRECTION CELLS.
You make a career in RURAL, TRIBAL AND URBAN DEVELOPMENT PROGRAMS with government organizations, national and international organizations.
WHY SOCIAL WORK?
It nurtures in students the ability in the following:
It explores self in the context of society and develops into mature human beings.
It Inculcates attitudes and values essential to work with people and organizations, governmental and nongovernmental, for achieving goals of social work profession.
It develops Systematic understanding about the dynamics of social problems and issues in the Indian society.
It develops the ability to look at the structure, ideologies which lead to exclusion and marginalization of vulnerable groups.
It develops necessary competence to build purposeful relationships to empower individuals, groups, families and communities towards self-directed change.
It develops ability to apply social work skills in practice and social work research in different fields for achieving desirable change and empowerment of people.
BSW STUDENTS RECEIVE TRAINING IN:
Advocacy
Assessment
Case Management
Community Outreach
Crisis Intervention
Intake/Referral
Interviewing
Problem Solving
Research
Service Planning
Present Faculty
FIND OUT IF SOCIAL WORK IS RIGHT FOR YOU. THESE COURSES ARE OPEN TO ALL STUDENTS:
Course Curriculum for Bachelor of Social Work (BSW)
English-1
Introduction to Social Work
Social Science Foundation for Social Work
Communication in Modern Indian Languages
Human Growth and Behaviour

English-2
Work with Individuals and Families
Work with Groups
Social Science Foundation for Social Work: Contemporary Development Studies
Field Work (practical component related to core subjects
Gender Studies
Community Organisation
Social Policy
Computer Applications
Research Methods
Social Work Administration
Social Work Theories and Practice
Life Skills
Development and Communication
Health and Nutrition / Child and Youth Studies (Elective)
Social Exclusion and Inclusion / Global and Indian Social Movements (Elective)
Work with older adults / Social Entrepreneurship (General Elective)
Academic Writing
Human Rights / Education and Development
Rural and Urban Studies / Informal Labour and Informal Sector.
Disability / Basic Counselling Skills
 Bachelor of Social Work (BSW) Eligibility Criteria
Minimum QualificationRequired: 10+2 or equivalent examination.
Minimum Marks Required: 45 % aggregate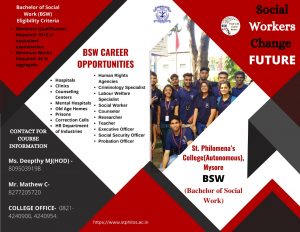 SOCIAL WORKERS CHANGE FUTURES
Social workers make change possible by working with individuals, families, groups and communities to improve human well-being in a variety of ways. Social workers are on the front lines advocating for people and facilitating positive social change.
Do you want to be a part of the change? The social work profession may be the field for you.