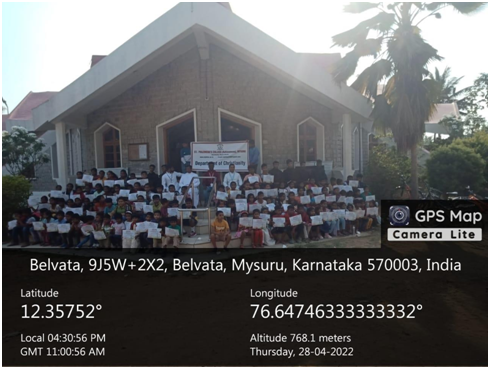 Department of Christianity
Organised
CHILIPILI
SUMMER CAMPS
The summer camp was launched at Infant Jesus Church premises covering three villages Belavata, K R Mill colony and Siddalingapura for two days from 27-28 April, 2022. Volunteers were mobilized in all three villages who were then trained to carry out these classes effectively, reaching approximately 115 children from class 1st to 10th Std. Children were motivated to come to the camp through melas and volunteers of the villages.
The summer camp was mainly a fun way of learning for the children where different methods were adopted to improve the learning level.
The Main Objectives
This camp aimed to reach certain goals by the end of the summer camp. The target age group for the summer camps were children from 5-16 years. Although each class aims differed according to their respective needs, the whole idea of the summer camp was to increase the learning level of the children at least by one level.
The following is the general framework within which functioned:
Children who are beginners or can read letters should be able to read words.
Children who can read words and paragraphs should be able to read stories.
Children who are beginners and can recognize numbers only up to 9 should be able to recognize numbers up to 100 and solve simple addition/subtraction sums and should know multiplication tables up to 5.
Children who can do addition and subtraction should be able to recognize numbers up to 100,000, know tables up to 10 and solve word arithmetic sums up to division.
Selection of children
In each village, the village team tested all children and identified those children who particularly need help. The children were then divided according to their level and the focus laid on them was based on their requirements. Indeed, it was learning process outside the classroom through action song, singing, drawing, skit, and other methods.
Training for the summer camps
To carry out the summer camps smoothly, a training strategy was devised. The training was divided into four levels for the students of department of Christianity.
Teaching Learning Material (TLM)        
With training, TLM was also provided as part of the summer camp. It included material like Para Cards, Story Cards, charts, Currency notes, Trading cards, Table Charts, Number Cards, Word problem Cards, Black Board, Chalk Box. The material was made in the local language.
Morning hours
In the Language period, three main activities were conducted:
Story reading (20 minutes): Volunteers gave different reading material to all children according to their level of reading. Volunteers facilitated the exchange of reading material and daily read a story to the children. During the reading session, volunteers pointed difficult / interesting words. After the story reading was done, volunteers initiated a discussion with the children about the story.
Word games (15 minutes): Oral games with familiar sounding words. Also, searching of words and sentences in the story and writing them down in notebooks.
Valedictory ceremony started by 3.30 pm on 28 April 2022. Chief guest, Fr John Paul, the campus administrator, St Philomena's College, Mysore encouraged everyone to keep learning every day, every moment of our life. The camp concluded with ceremony by distributing the certificates of participation to the children.