EDUCATIONAL TOUR BY COMMERCE STUDENTS TO PUNE, MUMBAI AND GOA
Posted by

Categories

Events

Date

January 15, 2020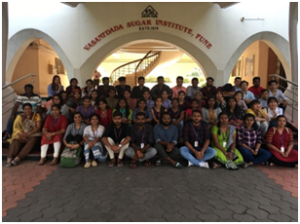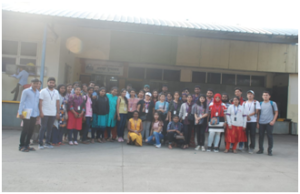 The PG Department of St. Philomena's College,
 Mysuru had organized an educational tour to Pune, Mumbai and Goa from 7/01/2020 to 14/02/2020 to various Industries and Research organization to provide its staff members and students learning and enriching experience.  The Tour was being planned and coordinated through a private tour operating agency.  The 29 students from Commerce were accompanied by faculty member. The train journey from Mysore via Yeshwantpur to Pune started on Morning 07/01/2020 and reached to Pune in the morning of 08/01/2020.
Date: 08.01.2020 – Visit to Vasantada Sugar
Institute, Pune
Brief Introduction about Vasantada Sugar
Institute, Pune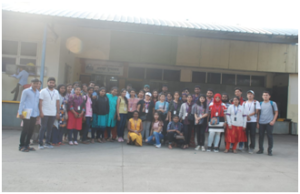 Vasantdada Sugar Institute (VSI) formerly known as Deccan Sugar Institute, is an autonomous body which is a society registered under the Societies Registration Act, 1860 and under the Bombay Public Trusts Act, 1950. Established in the year 1975 by the sugarcane grower members of cooperative sugar factories in the State of Maharashtra. The Institute performs, under one umbrella, all scientific technical and educational functions relevant to the sugar industry. In order to achieve the objective to strive for an all-round progress of the sugar industry, the institute operates through three main channels viz., Academic, Extension and Research & Development.
Mr. Talkalkar, briefed us about the objectives, departments, consultancy services they provide.
The institute aims at carrying out well planned, time bound, result-oriented research, imparting training to the staff of sugar factories, related industries and also to key personnel as well as sugarcane cultivators and undertaking development activities in sugar factories for improving their techno-economic efficiency.
The institute strives towards research in the major field of Agriculture science and technology, Sugar technology, Sugar engineering, Alcohol technology, Environment science and Electronic and computer. They provide technical consultancy in the fields of crop production, crop protection and crop improvement, prepare project report andcreation of new plants, how to modernize, expansion of the existing units, analysis of samples of sugar, sugar house products, alcohol and liquor, and also test drip irrigation materials. They sell the plants at a subsidise rate to local farmers i.e.  for 7/- and for outside state farmers for 8/-, though the actual cost is 9/- They Supply good quality seed material, bio – fertilizers, vermin- composts, farmer friendly insects and earthworms. They prepare co-op generation proposals for mills and co – products and undertake valuation of plants and machinery.
It is funded by Government agencies like Indian Council of Agricultural Research and other funding bodies. VSI is recognised as a Centre for Research by the Department of Science and Technology of the Central Government. It is also recognised as a Centre of Research for undertaking studies leading to Ph.D. degrees from University of Pune and Shivaji University, Kolhapur, Latur.
Date: 09.01.2020 – Visit to BSE By Commerce Students
Brief Introduction about BSE, Mumbai
The Bombay Stock exchange (BSE) is the Indian stock exchange which is located at Dalal street, Mumbai. It was founded on 9th July 1875; it is also Asia's oldest stock exchange. The BSE is world's 10th largest stock exchange with an overall market capitalisation of more than and $2.2 trillion on as of April 2018.
The first location of the earliest stock broker meetings in the 1850's was in much more natural setting- under banyan tree in form of the town hall. In 1874, the broker found a permanent location, the one that they could call their own. The new place was, aptly, called Dalal street (Broker's street).
Mr Suhas Worlikar, Faculty, BSE, briefed us about how BSE evolved, why there was a need for regulatory framework and what is the mantra in successful investing of shares.
On August 31,1957, the BSE become the first stock exchange to be recognised by the Indian government under the securities contracts Regulator act. In 1986, it developed the S&P BSE SENSEX index, guiding BSE to use the index to open its derivatives market. As in between many illegal works like malpractice and insider trading was taking place in the stock market. So, the government authorities had accorded statutory powers with the passing of the SEBI act 1992 by the Indian parliament. In order to have competition NSE was established in 1995. From both the exchanges 4600 shares are traded. Though there is a myth that investing in shares is risky due to the volatile market, Mr Suhas Worlikar guided the students about investing in shares. He said one should invest in those listed companies that are existing from long and have good market capitalisation. He asked the students to start investing in share market with minimum amount and to keep those shares for long period of time.  Further he mentioned that during demonetisation, there were housewives, mothers and many had kept a large amount with them, if they had invested in share market, they would have earned good profit.  Among the companies, Tata steel is the oldest and leading market till now. The largest investor in the capital market is LIC. The top three listed companies are Reliance, TCS and HDFC Bank. He further added that based on the need the techniques are used to analyse the trading mechanism. This seminar gave the students a hope to earn their money and the inputs given to them were knowledgeable as in third semester, Commerce students study a paper named Security Analysis and Portfolio management.
Date: 10.01.2020- Visit to Katraj Diary, Pune.
Brief Introduction to Katraj Diary
 It was established in 1960 with an intension of providing an organized facility of milk collection for the village level farmers situated in Pune district. Katraj Dairy started with milk collection of about 0.30 lakh (30.000) litres per day in the first year of operation and today, has steadily grown to over 2.00 lakh (0.20 million) litres per day and has a financial turnover of over Rs.250 crores
This Dairy with its nine chilling plants and 72 BMC spread almost all over the district has an installed milk handling capacity of over 5 lakh litres per day. The main plant of Katraj is equipped with modern Pasteurizer, homogenizer, Cream separator, Ghee processing, Milk Clarifier, Condense Milk Plant, Automatic packing of milk and milk products and other quality testing devices and well-equipped labs. Katraj Dairy has an installed processing capacity of 2 lakh (0.2 million) litres per day. Katraj dairy manufactures / Distributes milk and milk products like Pasteurized  Cow milk, Toned milk, Double toned milk, Standardized Milk, Full cream milk, Cow & Buffalo Cream and Ghee, Shrikhand, Amrakhand, Malai Paneer, Dahi, Flavoured Milk, Lassi, JeeraTak, Table Butter, Milk Powder, Softy Ice cream, Pedha, Khoa, sterilized milk in 200 ml bottle and hard Ice-cream with different flavours in different pack sizes and Mango, Anjeer & Malai Burfi, Kalakand & Kaju Katali. All these products are available at Katraj owned parlours at various locations in Pune City and through appointed distributors and retailing circuits. Very soon, Katraj plans to introduce an online ordering system for its distributors/ retailers and consumers.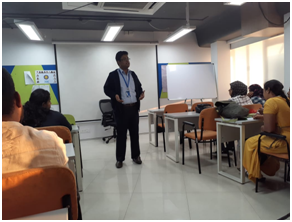 Date: 13.01.2020- Visit to Dempo Shipbuilding & Engineering Pvt. Ltd Goa.
Brief Introduction to Dempo Shipbuilding & Engineering Pvt. Ltd
Dempo Shipbuilding & Engineering Pvt. Ltd in Goa is the premier for ship building and ship repair and prized part of the Dempo Group of Companies. With two state-of-the-technology ship yards, one each on the Zuari (for vessels needing a deeper draught) at Undir, Bandora, and the Mandovi at Bainguinim, Old Goa, both a few kilometres upstream from the Arabian Sea.A skilled work force and the finest of designing minds coupled with a range of facilities all operating in an ERP environment ensure the delivery of world class vessels and faultless service at competitive rates. Certified by the Indian Register Quality System to ISO Standard 9001:2008 in respect of its quality management systems and Accredited by the RvA (Dutch Accreditation Council)
The educational tour gave students and faculties a refreshing, enlightening, adventurous and tremendous learning experience through visits to some of the prominent places in these destinations. It was indeed a wonderful experience which has helped us to gain immense knowledge and would help us for further Research & Development