ವಿಸ್ತರಣೆ ಚಟುವಟಿಕೆ-ಮನೋವಿಜ್ಞಾನ ವಿಭಾಗ
             The Department of Psychology, St. Philomena's College, organized a medical camp, as an extension activity, in association with the Alpha hospital, on July 16, 2022 at 10am at the Srirangapatna Court, Mysore. This extension activity was conducted with the objective of extending assistance as volunteers at the Medical Camp. In collaboration with the Alpha Hospital, the Medical Camp was conducted to raise awareness about the need to have regular check-ups among lawyers and policemen.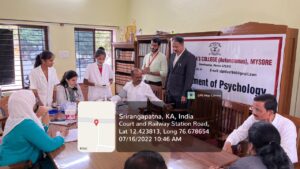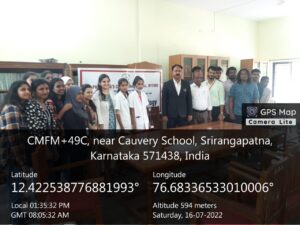 The activity was conducted by Mr. Ginson George, HoD of Department of Psychology, Ms. Nandita Rao, Department of Psychology, St. Philomena's College (Autonomous), and Mr. Khalid, Public Relations Manager, Alpha Hospital under the supervision of the Bar Council of the Srirangapatna Court, Mysore. A team of doctor and nurses, conducted the medical check- ups for the Judges, Lawyers and Police personnel on the Court grounds. The team was assisted by a group of students from the St. Philomena's College, Mysore
The Medical Camp was inaugurated by four Judges of the Srirangapatna Court, Mysore at 10:30am. The Judges were the first ones to get a general medical check-up done and with this the Medical Camp was declared open for the others lawyers and police personnel.
The students volunteered with the registration of the lawyers and police personnel who arrived for the General Medical check-ups. They assisted the nurses in reporting the results of the check-up to the individuals concerned.
The Medical camp was declared a success and closed at 2pm. The camp was a grand success with many lawyers and police personnel participating in the free medical check-up. The outcome of the programme indicated the prime importance given by the Court and Police personnel towards health and wellbeing. The sheer amount of participation itself served the purpose of raising awareness towards positive health and well-being. The camp concluded with a promise of conducting more medical camps to raise the standard of health and well-being among various sections of the population.