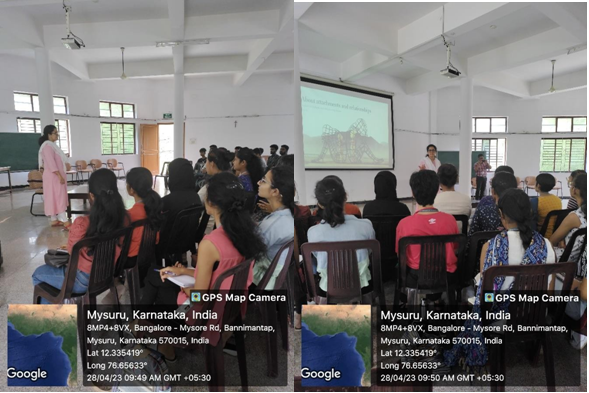 GUEST LECTURE ON ATTACHMENT THEORY AND RELATIONSHIPS BY VAISHNAVI M KULKARNI
The Department of Psychology, St. Philomena's College, organized a guest lecture for the Psychology students, on April 28, 2023 at 9:30 am at the College Chapel Hall. The lecture on the topic "Attachment theory and relationships" was conducted by Vaishnavi M Kulkarni, Clinical Psychologist.
The lecture commenced with posing of several questions to the students in an attempt to develop awareness about the negotiables and non- negotiables in a relationship for each of them. It was based on this awareness that one could understand the type of attachment patterns an individual followed.
It was highlighted that Attachment was an emotional affectionate bond. It was not something we thought of but rather had a feeling/ emotional component attached to it. based on several research studies that were emphasized by the speaker, it was seen that proximity maintenance, secure base, safe haven and separation distress formed the core elements of attachment. The speaker discussed the four main types of attachment patterns that was commonly observed in people. She stressed on the fact that these patterns were never set in stone but rather were flexible. This allowed for the possibility of moving from identifying and changing maladaptive patterns to adaptive patterns of attachment.
She helped the students develop awareness about how children form attachment styles and how it impacted their transactions in various types of relationships. She further elaborated on its impact during adolescence and adulthood. The present digital age, has opened up a new nature of relationships and hence being able to navigate such relationships, understanding one's patterns of attachment, needs and communication styles becomes crucial. In this light, the lecture was very informative and received positive feedback from the students.
After opening the session for questions, the lecture was concluded by a vote of thanks by Ms. Nandita Rao, Assistant Professor, Department of Psychology. Mr. Sunil D'Souza, Assistant Professor, Department of Commerce was requested to hand the invited speaker with a memento as a token of appreciation and gratitude.