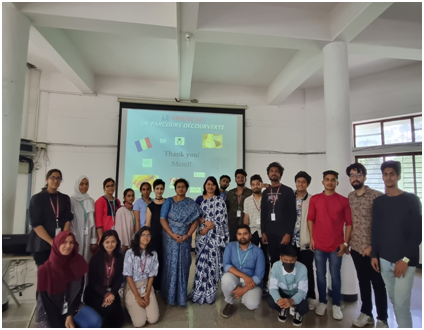 "Le Français-Un Parcours Découverte"(French –A Discovery Journey)
Posted by

Categories

Events

Date

December 4, 2022
Introduction of the guest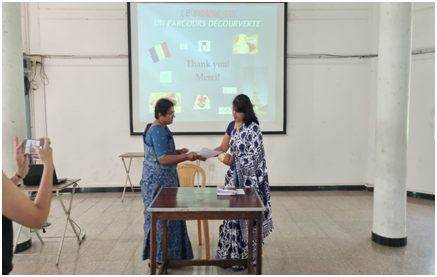 Madame Nisha Ghori
Educated in Africa & Europe. Teaching in Asia! Passion for the French language since 5th Grade. Over 16yrs of work experience teaching French as a foreign language for Children & Adults. Designed own course material for several needs. Proprietor of own Institute (FRENCH BASICS, Mysore) for over 13yrs. Work experience in Schools & Colleges in Mysore.  Personal experience with the French language for over 30 years. Trained over 1000 individuals in French. Currently teaches over 200 students across Mysore.
She is currently working as a French language teacher at Teresian College, Cresta School of Management Science & Arts, BASE PU College and the Biotechnology Department at SJCE.
As a student at Teesside University, England, she completed a University Certificate for Professional Development in French equivalent to the DELF B2. She also holds an Honours Degree in Electronics & Communication Engg, two Masters in HR. To add on, she is an accomplished Corporate Trainer with over 10 years of experience working with Infosys, Mysore.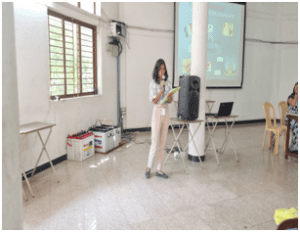 The faculty of the French dept-Ms.Niveditha Saldanha organized a guest lecture on "Le Français-Un Parcours Découverte"(French –A Discovery Journey)
On the 3rd of December 2022, at 12 noon ,Saturday in the Chapel hall.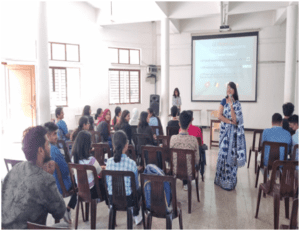 The students of the French dept from the 1st and the 3rd sem  took part in this event as an audience along with the French lecturer of the degree college.
Review of the day
The French students and the faculty reached the venue at 11.45 and the programme started as scheduled on time at 12' noon. The students along with the faculty welcomed the guest and proceeded with the introduction of the guest" Mrs.Salva Nishath Ghori". The lecture went on for an hour and a half, and the students learnt a lot about French language, culture, scope of learning this foreign language, exposure, fancophone countries, cuisine, unusual festivals held in France etc.
The event was very interesting with colourful slide shows. It was an interactive session where the students learnt about many facts that were unknown to them. The session was conducted interestingly by the speaker with the involvement of all the students. After the session the audience had time to ask their questions and queries. The speaker answered all the questions and queries very efficiently. The session was very informative and enhanced the knowledge of the students. It ended at 1.30.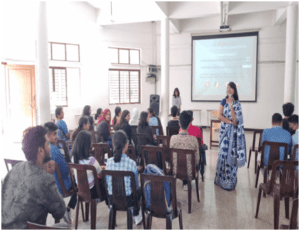 After the session, Mrs.Nishath Ghori was awarded a token of appreciation by the management of the college, with a memento and remuneration by Ms.Niveditha Saldanha.