ರಾಷ್ಟ್ರೀಯ ವಿಚಾರ ಸಂಕಿರಣ
  ಸಂತ ಫಿಲೋಮಿನಾ ಕಾಲೇಜು (ಸ್ವಯತ್ತ) ಹಿಂದಿ ವಿಭಾಗ, ಬನ್ನಿಮಂಟಪ, ಮೈಸೂರು ಇವರ ವತಿಯಿಂದ ಕಾಲೇಜಿನ ಅಮೃತ ಮಹೋತ್ಸವ ಹಾಗೂ ಸ್ವಾತಂತ್ರ್ಯ ದಿವಸದ ಅಮೃತ ಮಹೋತ್ಸವದ ಅಂಗವಾಗಿ ದಿನಾಂಕ 22 ಹಾಗು 23 ಜುಲೈ 2022 ರಂದು "ಹಿಂದಿ ಭಾಷಾ ಬೆಳವಣಿಗೆ ಹಂತಗಳು" ಎಂಬ ವಿಷಯದಲ್ಲಿ ಎರಡು ದಿವಸಗಳ ರಾಷ್ಟ್ರೀಯ ವಿಚಾರಣಾ ಸಂಕಿರಣವನ್ನು ಹಮ್ಮಿಕೊಳ್ಳಲಾಗುಲಾಗಿದೆ. ಈ ರಾಷ್ಟ್ರೀಯ ವಿಚಾರ ಸಂಕಿರಣವನ್ನು ದೆಹಲಿ ಹಿಂದಿ ಸಾಹಿತ್ಯ ಸಮ್ಮೇಳನ, ದೆಹಲಿ, ಕೇಂದ್ರ ಹಿಂದಿ ಸಂಸ್ಥಾನ, ಶಿಕ್ಷಣ ಸಚಿವಾಲಯ,ಆಗ್ರಾ ಹಾಗೂ ಭಾರತೀಯ ಭಾಷಾ ಸಂಸ್ಥಾನ, ಶಿಕ್ಷಣ ಸಚಿವಾಲಯ, ಮೈಸೂರು ಇವರ ಸಂಯುಕ್ತ ಆಶ್ರಯದಲ್ಲಿ ಏರ್ಪಡಿಸಲಾಗಿದೆ.
 ಈ ಕಾರ್ಯಕ್ರಮದ ಉದ್ಘಾಟನೆಯನ್ನು ರೆವೆರೆಂಟ್ ಫಾದರ್ ಪ್ರಕಾಶ್ ಬಾರ್ನಸ್ ರವರು ನೆರವೇರಿಸಲಿದ್ದಾರೆ. ಈ ಕಾರ್ಯಕ್ರಮಕ್ಕೆ ಮುಖ್ಯ ಅತಿಥಿಗಳಾಗಿ ಶ್ರೀಮತಿ ಇಂದಿರಾ ಮೋಹನ್, ಅಧ್ಯಕ್ಷರು, ದೆಹಲಿ ಸಾಹಿತ್ಯ ಸಮ್ಮೇಳನ, ಪ್ರೊ. ಬೀನಾ ಶರ್ಮ, ನಿರ್ದೇಶಕರು, ಕೇಂದ್ರ ಹಿಂದಿ ಸಂಸ್ಥಾನ,ಆಗ್ರಾ ಪ್ರೊ. ಶೈಲೇಂದ್ರ ಮೋಹನ್ ನಿರ್ದೇಶಕರು. ಭಾರತೀಯ ಭಾಷೆ ಸಂಸ್ಥಾನ, ಹಾಗೂ ಕಾಲೇಜಿನ ಪ್ರಾಂಶುಪಾಲಕರಾದ ಪ್ರೊ ರವಿ ಜೆ ಡಿ ಸಲ್ದಾನ ಇವರು ಭಾಗವಹಿಸಲಿದ್ದಾರೆ. ಸದರಿ ಕಾರ್ಯಕ್ರಮಗಳು ದಿನಾಂಕ 22 ಹಾಗೂ 23 ಜುಲೈ 2022 ರಂದು ಸಮಯ ಬೆಳಗ್ಗೆ 9.00 ಗಂಟೆಗೆ ಕಾಲೇಜಿನ ಒಳ ಕ್ರೀಡಾಂಗಣದಲ್ಲಿ ಉದ್ಘಾಟನೆ ಗೊಳ್ಳಲಿದೆ.
National Level Hindi Seminar
St.Philomena's College ( Autonomous), Department of Hindi, Bannimatap, Mysore is organizing National Level Seminar on 22nd and 23rd of July 2022, on account of "College Platinum jubilee" celebration and "Aazadi ka amruth mahotsav". The seminar is organized in collaboration with Delhi sahitya sammelan, Delhi, Central Hindi Directorate, Ministry of Education, Agra and Central Institute of Indian languages, Ministry of Education, Mysore. Canara bank is sponsoring the event.
The inaugural session will be presided by Rev Fr. Bernard Prakash Barnis, Rector, St.Philomena's college( Autonomous) and Dr.Ravi J D Saldanha. The Chief guest of the programme will be Smt India Mohan, President, Delhi Hindi Sahitya Sammelan, Delhi, Prof Bina Sharma, Director, Central Institute of Hindi, Agra, Prof. Shilendra Mohan, Director, Central Institute of Indian Languages. The Inaugural sesson of the event will be on 22nd July 2022, 9.00 AM at college Indoor stadium.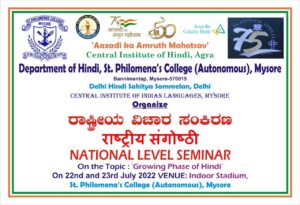 Hss Goshthi card Hindi New Card