"SPARSHA – Instilling Hope" Cancer Awareness Skit
Posted by

Categories

Events

Date

March 22, 2022
St . Philomena's College in Collaboration with ODP  (Organization for the Development of People), St.Joseph's Hospital ,Mysore .
LOCATION – Auditorium of St.Philomena's College (Autonomous), Bannimantap , Mysore .
DATE : 4th February 2022 , Friday
Number of people attended the programme – 100
BSW: Faculty Supervisors – Ms. Deepthy M J (The HOD) and Mr. Mathew C;
Final Year BSW Students – 10.
REVIEW OF THE DAY
The Department of Social Work (BSW) performed an awareness skit on the occasion of "World Cancer Observation Day". The BSW final year students practiced the skit under the guidance of Ms. Deepthy M J, Mr. Mathew C and Rev. Fr. Maria Xavier. The BSW final years performed a skit which gave awareness about Cancer. The programme started by 3:30 pm and the BSW students helped in giving out plant sapling to all the guest gathered including Most Rev.Dr.K.Antony William(Bishop of Mysore),The chief guest- Dr.Vijay Kumar M – Bharati Hospital, Rev.Dr.Bernard Prakash , Mr. Sanjay Nayar – St.Philomena's College, Rev.Fr.Alex Prashanth Sequeira – ODP , Rev.Fr.Manuel D'Souza , Rev.Fr.Sanjay – St. Joseph's Hospital . After the prayer dance , lightening of the lamp and welcome speech ; the BSW students performed the skit . With good script , active performance and creativity ; the students were able to put awareness through the skit which included causes , consequences and effects of cancer .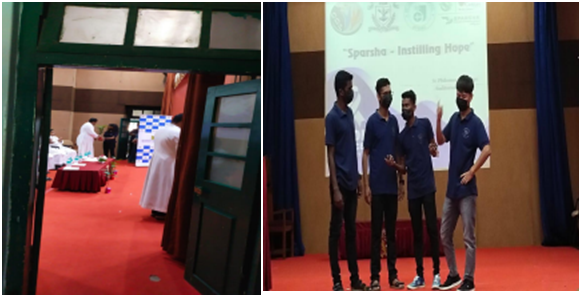 OBJECTIVES OF THE PROGRAMME
Create cancer awareness and remove the stigma and fear attached.

Help people recognize the early signs and symptoms of cancer, thus enabling them to seek treatment at an early stage.

Increasing the knowledge of the public on the benefits of early detection,
changing attitudes and behaviors to seek early detection services.
To reach out to people, to understand about Cancer as a whole .

OUTCOME OF THE PROGRAMME
It helped people to understand about Cancer through entertainment.

It was easier for the public to understand since it was in their native language.

It was helpful to avoid the habits completely which could lead to cancer since the skit showed the consequences of smoking , alcoholism, tobacco etc.

This could help the people to normalize on going to hospitals for early detection and seeking help from professionals to avoid the habits that could lead to cancer.