Special Lecture TOPIC: FUNDAMENTALS OF RESEARCH METHODOLOGY
Posted by

Categories

Events

Date

February 8, 2022
Dr. NavithaThimmaiah, Associate professor, department of studies in economics and Co-operation, University of Mysore, Mysore
The PG Department of Economics in collaboration with the PG Department of Commerce, St. Philomena's College (Autonomous), Mysore has organized a Special Lecture on 8th February 2022 as part of the Curriculum on the different aspects for the benefit of the students.
OBJECTIVES
To understand the Fundamentals of Research methodology.
To explore the different types of research.
To identify the research problems in the study area.
To understand the difference between the probability and non-probability sampling techniques.
To learn to prepare a questionnaire and schedule for the research problem.
To determine the sample size for the research.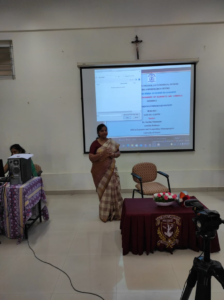 Dr. NavithThimmaiah enlightened the students on the fundamentals of research methodology and the need for research in today's world. She covered the basics of research, the research process, and the difference between research methods and research methodology. Madam also focused on the different types of research and sampling techniques. She also stressed the objectivity of the researcher as well as the role of the predetermined knowledge required for a researcher in research ethics. She also extensively covered the review of the literature and acknowledged the research work in a very systematic way. Madam even discussed the selection of research problem and research area, determining the sample size, formulation of objectives and hypothesis, Difference between a population and sample size, sampling techniques difference between the descriptive and inferential statistics, and report writing.
The faculty and students actively participated and seek answers to their questions.