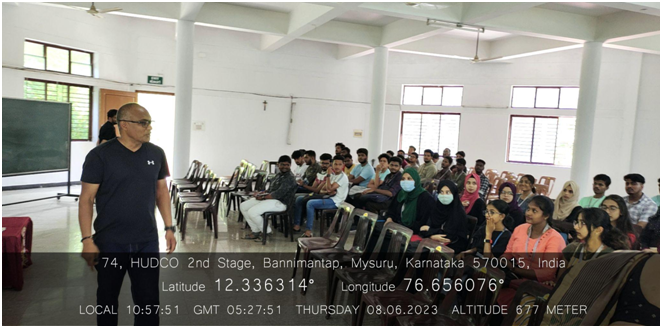 St. Philomena's College (Autonomous), Mysuru
Opportunities in Malta
Introduction
Session on the opportunities for students in academia and industry in Global College, Malta. The session focuses on the college, what are the benefits in terms of cost and employability and on how it reveals a unique opportunity for students with a global mindset. The session will also assess individual skill via a test and interview. Those selected will be provided a platform to futures awaiting.
Objectives
To educate students about Global College Malta, the future possibilities and efficient planning for future
To assess individual competency via test and interview
Report
The session by Global College Malta on the 'Opportunities in Malta' was a step in a new direction for students. The session was conducted by Mr. Christopher and Mr. Najeem, who is a part of Study World representing Global College Malta. The session began at 10:30 am at the Chapel Hall. After an introduction to the session and the speaker, the session commenced.
The session focused on the rising challenges in the employment market for students and the ground reality for most students who are entering the job market. There is a disparity in the skills students are to be equipped with and the skills they are acquiring in the current system. The session also showcased the most sought out countries around the world and how it has become a money minting business rather than improvement in education.
The session then brought its focus to the matter at hand, why Global College Malta, is an efficient and unique option for students not only in terms of money but also in terms of innovation and ideas. The session explained what are the processes involved and how they can be selected for the same. After an introduction to Global College Malta, and what they were looking for, all interested students were asked to stay back for a test and those students who passed the test, were to attend an interview. Around 25 students took up the test and 22 passed the test. Out of the students who attended the interview, 8 students were selected and given an offer letter to study at Global College Malta. In the presence of Dr Ravi JD Saldanha, Principal of St. Philomena's and Mr Ronald Prakash Cutinha, Vice-Principal (Administration), the students were provided their offer letters in the Conference Hall. After a small glimpse of the day, the session came to an end.
            The session while highlighting the forthcoming reality to students, gave them a chance to go global. It not just brought out the where, but also the how and why to the session. The assertiveness of the vision the session carried attracted the right kind of audience. All in all, the session provided a platform for those who want to step up their goals and move towards a global lifestyle.