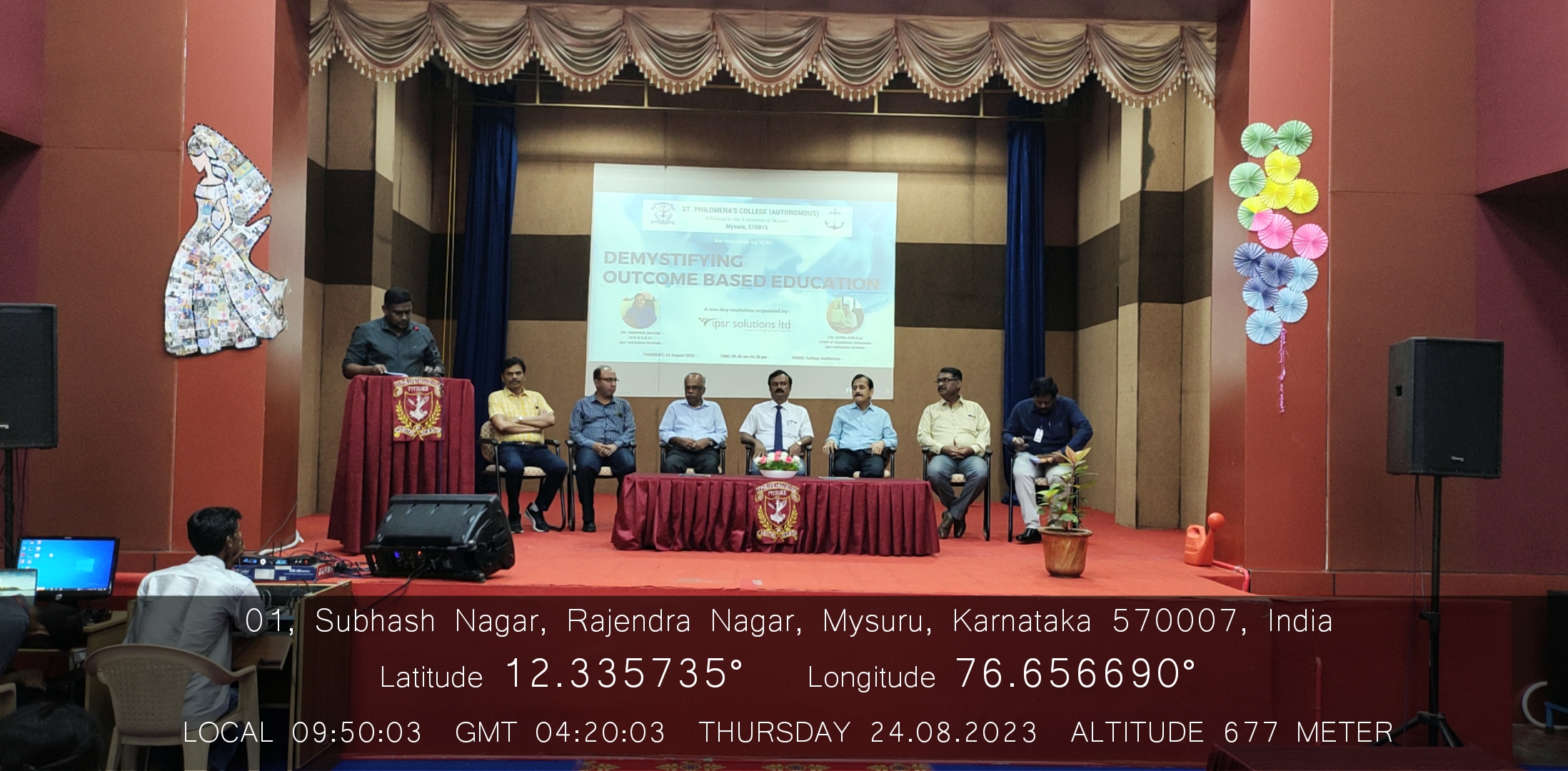 Workshop on 'Demystifying Outcome based Education'
Organised By: IPSR Solutions Ltd. In association with Internal Quality Assurance Cell, St. Philomena's College, Mysuru.
Resource Persons: 1. Dr.Mendus Jacob, M.D & C.E.O – IPSR solutions limited, Valin Technologies, UK, USA, Canada. Professor & Director MCA, Marian College, Kuttikkanam (Autonomous).
2. Dr. Sunil Job K.A Chief of Academic Solutions – IPSR solutions limited, Adjunct Faculty, Marian College, Kuttikkanam (Autonomous).
Objectives of the Workshop: The objectives of the workshop 'Demystifying Outcome based Education.'
Understanding the Significance of OBE: By the end of this workshop, faculty members should be able to recognize and appreciate the relevance and scope of Outcome-Based Education (OBE) within the context of higher education.
Integration of Bloom's Taxonomy: Faculty members will acquire the ability to apply Bloom's Taxonomy effectively in their teaching, learning, and assessment strategies.
Outcome Formulation Proficiency: Participants will develop the skills to formulate Program Outcomes (POs), Program Specific Outcomes (PSOs), and Course Outcomes (COs) using appropriate Bloom's Taxonomy verbs, which are essential for crafting clear and measurable learning objectives.
Outcome Mapping and Attainment Calculation: Faculty members will be capable in mapping these outcomes across their curriculum and calculating the attainment of these outcomes, enabling them to assess how well students achieve the desired learning objectives.
Analytics Reporting for NAAC Perspective: Participants will gain hands-on experience in utilizing various tools to prepare analytics reports specifically aligned with National Assessment and Accreditation Council (NAAC) requirements.
Inauguration: The workshop inauguration commenced with a ceremonial watering the sapling and a prayer song, setting a reverent tone for the day's proceedings. Addressing the gathering, Mr. Thomas Gunaseelan, IQAC Coordinator, extended a warm welcome and underscored the profound significance of Outcome-Based Education (OBE) in the realm of academia. This insightful introduction session served as a bridge, preparing the participants for the enriching content to be covered in Session 1. The inaugural session saw the presence of Dr. Ravi J D Saldanha, Principal, Prof. Othbert Pinto, PG Director, Mr. A. ThomasGunaseelan, IQAC Coordinator, Ms. Lydia Vandana, Controller of Examination, and Dr. Noor Mubasheer CA, PG Dean of St. Philomena'sCollege.
Session I: 10.00 am – 11.30 am
Topic: "Bloom's Taxonomy" & Hands onactivities Preparation of Questionsbased on Bloom's Taxonomy"
Resource Person: Dr. Sunil Job
In this informative session 1, participating faculty explored the educational framework known as Bloom's Taxonomy. Dr. Job took us through the Taxonomy framework which classifies cognitive learning objectives into six levels, beginning with Remembering and progressing to Creating. The session introduced the taxonomy's hierarchical model, depicted as a pyramid, which guides educators in scaffolding learning experiences from basic knowledge to higher-order thinking. Additionally, he explained to the participants about the revised version of the taxonomy, introduced in 2001, which refined the descriptions of each level.
The practical application of Bloom's Taxonomy in hands-on activities was a key focus. Faculty from Sciences, Commerce & Humanities were encouraged to design questions aligned with specific cognitive levels, enabling them to create engaging and effective learning experiences. The session provided examples of hands-on activities and corresponding questions to illustrate how taxonomy can be integrated into teaching practices.
Session II: 11.40 am – 1.00 pm
Topic: "Architecture of OBE, design, and mapping of Outcomes" & Hands on
activities – Design of Outcomes andMapping
Resource Person: Dr.MendusJacob
In this session II , Dr. Jacob started pointing at the basic pedagogical paradigm shift focuses on redirecting the core of education from a traditional teaching-centered approach to a more dynamic and student-centered learning-centric model. During the session, participants gained a comprehensive understanding of the essential principles that underpin OBE, which include the necessity for clear and concise learning outcomes, the alignment of curriculum with program objectives, a continuous improvement cycle, employing assessments primarily for the purpose of enhancing learning, and active engagement to ensure educational relevance.
The session delved into the intricate process of designing educational outcomes, beginning with the design of Program Outcomes (PO), which serve as the guiding star for an entire program of study and resonate with the overarching mission and goals of the institution. The focus then shifted to Program Educational Outcomes (PEO), which provided a more specific view, detailing the knowledge, skills, and attitudes that graduates should possess upon program completion, taking into consideration broader societal needs. Teaching faculty also explored the concept of Program Specific Outcomes (PSO), which cater to specialized areas within a program, offering tailor-made learning objectives to meet industry or niche requirements. Furthermore, the session elucidated the creation of Course Outcomes (CO), which map back to PEOs and POs, and Course Learning Outcomes (CLO), breaking down COs into granular, actionable objectives that guide lesson planning and assessments. The highlight of the session was the integration of hands-on activities into the OBE framework.
Session III: 2.00pm – 3.30 pm
Topic: "Attainment Calculation and useful analytics for Accreditation" & "Best practices and the Road ahead"
Resource Person: Dr. Mendus Jacob& Dr. Sunil Job
In an enlightening session participant were immersed in a comprehensive exploration of attainment calculation and its relevance in the context of accreditation. The session commenced with a focus on the vital practice of mapping Program Outcomes (POs) to Course Outcomes (COs), emphasizing the alignment between program-level objectives and course-level outcomes, a critical facet of accreditation processes. Weightage mapping emerged as another pivotal aspect, underlining the need to assign relative importance to outcomes, a process necessitating stakeholder engagement and consensus.
The session showcased the indispensable role of analytics in accreditation, introducing participants to a range of analytical tools and techniques. Analytics were portrayed as valuable assets for evidence-based program evaluation and the creation of robust accreditation reports. Moreover, participants actively shared and discussed best practices in attainment calculation, fostering a collective repository of effective assessment strategies.
Concluding with a forward-looking perspective, the session highlighted emerging trends and technologies that are poised to reshape educational assessment. These include artificial intelligence and machine learning, emphasizing the need for continued professional development and collaboration to stay current with evolving accreditation standards and practices.
Valedictory: The valedictory session of the Workshop on Outcome-Based Education marked the culmination of a rewarding journey, graced by the presence of distinguished individuals including Dr. Ravi J D Saldanha, Principal; Prof. Othbert Pinto, PG Director; Mr. A. Thomas Gunaseelan, IQAC Coordinator; Ms. Lydia Vandana, Controller of Examination; and Dr. Noor Mubasheer CA, PG Dean of St. Philomena's College. Faculty memmbers enthusiastically shared their feedback, expressing their appreciation for the workshop's comprehensive content and practical relevance. Certificates of participation were then presented to acknowledge their dedication. Vote of thanks to all, including the resource persons, facilitators, and participants was extended by Dr. Deepa V, Dept. of BBA, highlighting the collaborative spirit.
Mr. William Joseph, Head of the Department of English, sailed us through the program as the Master of Ceremony, while the introductions of the esteemed chief guests were expertly conducted by Ms. Arshiya Khanum from the Department of BBA and Dr. Viveka Marie from the PG Department of Commerce.
Workshop Outcomes: While participating in this workshop, the faculty members will be able to:
Identify the relevance and scope of OBE.
Apply Bloom's Taxonomy in Teaching, Learning and Assessment strategies.
Formulate PO's, PSO's and CO's appropriately using Bloom's Taxonomy verbs Map the Outcomes and calculate Attainment of Outcomes.
Apply tools to prepare various analytics reports on OBE as per NAAC perspective.