A Degree Programme With equal focus on Education and skill 
The University Grants Commission (UGC) has launched a scheme on skill development based higher education as part of college/university education, leading to Bachelor of Vocation (B.Voc). However, unlike the traditional UG courses, B.Voc curriculum is often mapped with job role descriptions as per National Skills Qualification Framework (NSQF). Since the curriculum is industry and work-integrated and for some reason, if you are unable to complete the 3-year program, you can still obtain a Diploma and advanced Diploma (or equivalent) after completion of the first and second year respectively. Hence, your knowledge and skills are valued at every level and you will be qualified for a suitable job, as per market requirements. You can even explore becoming an entrepreneur in your domain.
Course Description
| | | | | | |
| --- | --- | --- | --- | --- | --- |
| Sl. No | Semester | Skill sector | NSQF | Certification | Job role description |
| 1. | 1stsemester | Phlebotomy technology | Level3 | Certificate | Phlebotomists |
| 2. | 2nd 3rd and 4th semester | Medical Lab technology | Level 4 | Diploma | Lab Technician |
| 3. | 5th semester | Blood Bank technology | Level 4 | Advanced Diploma | Blood Bank Technician |
| 4. | 6th semester | Histo technology | Level 5 | Degree | Histopathology Technician |
Distinctive features
No age limit
Multiple entry and multiple exit options
More than 60% course time is spent in skill based training
The programme is credit based which covers general education and vocational skills
Excellent lab facilities for practicals
Emphasis on Domain skills, Communication skills, Computer application and employable skills
Collaboration with respective industry partner for further training, internship and placements 
Eligibility Criteria
Pass in PUC or +2/ Diploma
Diploma holders in relevant field can take direct lateral entry admission to second year (Advanced Diploma)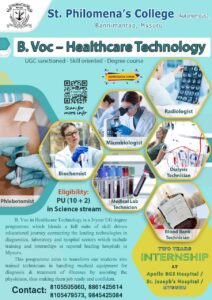 Present Faculty
Skill sector Training Centres
| | | |
| --- | --- | --- |
| Sl. No | Course stream | Training Centre |
| 1. | 1st year | St. Philomena s College, Bannimantap, Mysore |
| 2. | 2nd year | St. Josephs Hospital, Bannimantap, Mysore |
| 3. | 3rd year | BGS Apollo Hospital, Kuvempunagar, Mysore |
Scope for Higher studies
The candidate will be eligible to pursue MBA in Hospital Administration and Management, M. Voc and MSW in Social work.
Specialization
Phlebotomists– Phlebotomists are trained professionals who draw blood for tests, donations and other purposes. As a certified phlebotomy technician you'll draw blood from patients in various capacities
Blood bank technicians: usually trained as phlebotomists, work with patients in various settings, collecting and labeling blood to be used in transfusions. They must pass a test for national certification and can prove their competency by earning professional credentials.
Medical lab technicians: they work under the supervision of a physician, lab manager or medical technologist and perform laboratory tests on specimens. The tests that lab techs conduct assist doctors in verifying the causes of an illness, making medical decisions and determining treatment options.
Neuro- technicians– use science and technology to help diagnose and treat neurological diseases and disorders. They perform non-invasive neurological tests on patients as directed by physicians and use a variety of electroneruodiagnostic equipment to perform these tests.
Intensive care technicians: provide care in general ICU's as well as within specialized units. It is basically to provide care to people of all ages, however most provide care to either adults or children.
Dialysis Technician: A dialysis technician who works with patients is in charge of assembling the machine, making sure it is in working order and ensuring it is sterile. The technician checks a patient's chart, administers local anaesthesia and inserts the needle, starting dialysis according to the prescription. 
CSSD technician– A member of a medical facility in a hospital or clinic, responsible for maintaining the facility supply of sterile devices.
Cardiac technician– Aids physicians in diagnosis and treatment of heart, lung, and blood vessel disorders by conducting non-invasive diagnostic tests of cardiovascular and pulmonary systems; maintaining equipment; recording test results.
Radiology technologists– technologists work with radiologists to diagnose and treat patients using radiologic imaging. They explain procedures to patients, prepare and position patients for tests and perform those tests while following radiologic safety procedures.
OT technician: Operating room technicians  in the operating room before, during and after the surgeons' and nurses' participation. Also known as surgical technicians or technologists, they directly contribute to the success of surgical operations.
Respiratory care technician– They work under the supervision of therapists and other medical professionals to treat patients with respiratory disorders and diseases.
Placements
Medical sectors
Hospitals/ Clinical sectors
Pathology labs
Diagnostic centres