BARCLAYS CSR PROGRAMME – "CONNECT WITH WORK"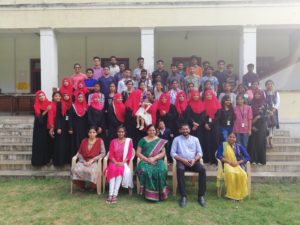 BARCLAYS CSR PROGRAMME – "CONNECT WITH WORK"
 AT  ST. PHILOMENA'S COLLEGE FROM 24/11/2018 TO 26/11/2018
The venture aims to provide 'quality with scale' through programs delivered with the help of innovative technologies and compelling content. As part of their CSR initiative, Barclays has decided to impart skills to the  unemployed youth as per the industry requirement. Barclays has decided to partner with GTT in this initiative.  The program facilitator for the training program was Mr Varghese K Johnson.
Under the guidance and support of Rev.Dr. Bernard Prakash Barnis, the Rector/Manager, St. Philomena's College, the three day Workshop has been held in the College Auditorium from 24/11/2018 to 26/11/2018 for final year B.Com, B.Sc, B.B.A, BCA, B.A students who have benefited the workshop. Dr. T Ruth Shantha Kumari, the Principal of the College who welcomed the gathering and highlighted the importance and need of a training session and urged the students to make the best use of this workshop. The workshop was started with    Mrs. Harinakshi , PRO, St. Philomena's College, and articulated the significance of Communication and Analytical skills.
Following teachers extended their valuable support and co-operation by facilitating the workshop.
Angeline Theresa Lobo(Dept of Commerce)
Rohini(Dept of Comp. Sc)
Viveka Mary(Dept of Commerce)
Syeda Masarath(Dept of Comp. Sc)
Precilla(Dept of Comp. Sc)
Training Programme Details:
24 Hrs. of  high impact workshop by industry expert on Soft Skills and Communication, topics are mentioned below:
Main Topic
Sub Topic
Objectives
Interview Skills
Introducing the connect with work programme
What is in it for me? Understanding the objective of the CWW programme
SWOT Analysis
To Self evaluate and analyze strengths and areas of improvement
LinkedIn (Profile Management)
To gain knowledge on LinkedIn account management and tips to enhance a profile
Resume
To build a strong profiles through effective resume writing
Grooming
To study corporate grooming habits (The right attire)
Body Language
To imbibe the right body language for a professional environment
Confidence
To increase self-belief and faith in one's own abilities
Interview FAQs
Learn to face frequently asked interview questions
Mock Interview + Group Discussions
Tips to handle Interviews and enhance Public Speaking skills (Group Discussion)
Rejections
To understand how to handle interview rejections and come back from set-backs
Corporate Readiness
Values
An introduction to values in a corporate environment
Online Image
Building a strong impression online and sustaining online credibility
Self-Awareness
To Know your personality through an MBTI
Ownership
To learn how to be accountable and own tasks, projects etc.
Respect
To understand the importance of respect as a critical corporate value
Teamwork
To understand collaboration and its importance in the corporate world
Autodidactism
To leverage self-learning and self-directed education
Flexibility
To learn how to be flexible while playing multiple roles
Time Management
To improve effectiveness at work and achieve a balance
Stress Management
To understand how stress can be managed and to lower depression
Positive Attitude
To take the step towards positive success by adapting the right approach
Mock Interviews & Group Discussions
Learning application
Group Discussion rules
Tips to handle Interviews and enhance Public Speaking skills (Group Discussion)