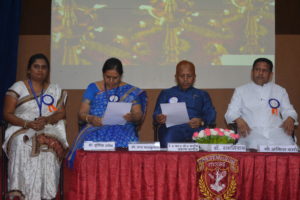 On the occasion of Hindi Diwas on 14th September; the department of Hindi, St. Philomena's college arranged the program in the auditorium of the college as a sign of promoting the language to everyone.
            The program started with the lightening of the lamp in the presence of Dr. Ruth Shanthakumari, Rev. Fr. Dr. Bernard Prakash Barnis, Dr.Poornima Umesh, and the chief guest Dr. Ramnivas Sahu.
               Dr. Ruth Shanthakumari, principal of the college gave her address mentioning the diversity of the language in our country and its versatility. The highlight of the program was the video which was displayed in which eminent persons from the field of newspaper, Akashavani, Engineers, regional heads of Hindi of different states Himachal, Haryana, Jammu , Madhya Pradesh, Uttar Pradesh, Orissa, Tamil Nadu, New Delhi and parts of Karnataka like Bangalore, Mysore, Mangalore and different departments of the college and students congratulated on the occasion. This video was collected and compiled by Poornima Umesh, HOD of Hindi department.
                 Dr. Ramnivas Sahu, regional director of The Central Institution of Hindi in Siddhartha Nagar, Mysuru, being the chief guest of the day, not just highlighted the prominence of the language but also threw light on how language has been growing and how it is important in every aspect in the economic and political growth of the nation. He encouraged the students to actively participate in helping the language grow and spread throughout the world. The students actively participated in the event depicting short cultural programs.
        Rev. Fr. Dr. Bernard Prakash Barnis, Rector of St. Philomena's college, staffs and students were also present.
GLOBAL TEACHER AWARD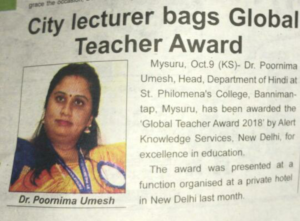 BOOK LAUNCHED BY  Dr.Poornima Umesh