Independence Day 2018
Posted by

Categories

Events

Date

August 28, 2018
INDEPENDENCE DAY CELEBRATION
                                 Tri colour flutters high at St. Philomena's College
On the occasion of the 72nd Independence Day St. Philomena's College paid a tribute to the nation by hoisting the national flag followed by a short program on August 15 in the college auditorium.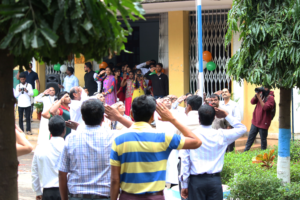 "Mrs. Madhuri Tatachari, Managing trustee of Bhramara Trust, was the Chief Guest. Addressing the students  she explained what Independence really means. Independent is to have complete growth where every person in that area has no fear to express his feelings. Everyone has the right to live differently. Liberty of one individual should not hurt the liberty of another. People may aspire to have freedom, but it should be freedom from selfishness, anger, malice, hatred etc.   We should be masters of ourselves. According to dictionaries Independence is the complete control of a group of people over a particular area but that is where the contradiction lies. Complete control and then call it Independence? She briefed on how Independence, freedom and liberty are closely connected and yet not the same. Total Independence is something impossible to achieve but peaceful Inter-Dependence is the key. No human being can say 'I am all alone'. She quoted Thomas Merton's book 'No man is an island'.  We live in society not in isolation. A good friend is the one who corrects you by hitting on your head. We cannot change the world, better we change ourselves.
Mrs. Madhuri Tatachari also shared her own experiences and how her mother taught her to respect all religions and about true love.She concluded by saying that a country where all the people are united and stay happy that is a truly free and Independent nation. Earlier National flag was hoisted by Rev. Fr. M. Vincent, Principal of St. Philomena's PU College. The Chief Guest planted a sapling. ­­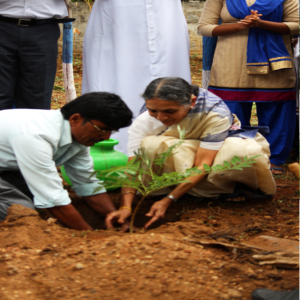 'Philoline' a news letter by the Dept. of Journalism was released by Prof. Rajalakshmi, Dean of Science.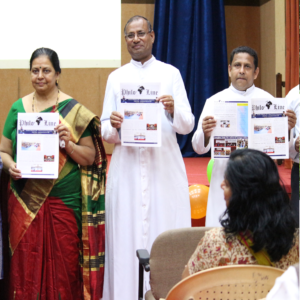 This was followed by patriotic songs and dances performed by the students. All teaching, non-teaching staff of the college and the students were present.