National level webinar on 4th Industrial Revolution – The Digital Age of Tourism and Hospitality Industry.         
Posted by

Categories

Webinar

Date

August 27, 2020
4th Industrial Revolution – The Digital Age of Tourism and Hospitality Industry.             
National level webinar was organised by Department of Tourism and Hospitality Management on 11th June 2020. The event started at 11.30 am, around 140 participants from various states like West Bengal, Tamil Nadu,Rajastan,Karnataka,Kerala participated in the Webinar. Participants from various segments such as Students,academicians,industry professionals from across the nation were part of this webinar.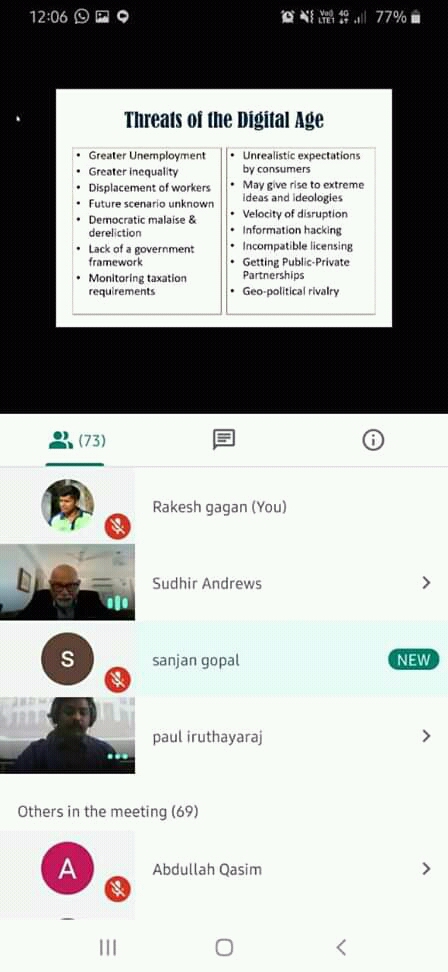 Mr.Paul Iruthayaraj,Head ofTourism and Hospitality department welcomed the gathering and made introductory remarks about the college, highlighted achievements of the department and the courses which are offered in the department. To be more specific Diploma, Advanced Diploma, certificate and Graduate Programme in Tourism, Hospitality (Hotel Management), and Bakery are the available courses in the department.
A well known Hotelier Dr.Sudhir Andrews, who has authored 11 Hotel Management and Tourism books published by TATA McGraw Publications, was the resources person for the Webinar. He explained the impacts of present scenario on Tourism and Hotel Industry, He shared his thoughts on how to prepare our industries to withstand and sustain from COVID 19.He also mentioned about Digital Technology, Latest techniques and practices to be implemented and the necessities for the professionals in the industry to learn about new practices, software's, Digitalized menu and the operation of the latest equipments. A special note was made on measures to be taken to have good hygiene and sanitation.
Ms.Rini Brown, faculty of the department, proposed the vote of thanks.
The webinar was well appreciated by the panel members and participants. To conclude feedbacks from the participants were well accepted by the department as a final wrap e-certificates were sent to the participants.