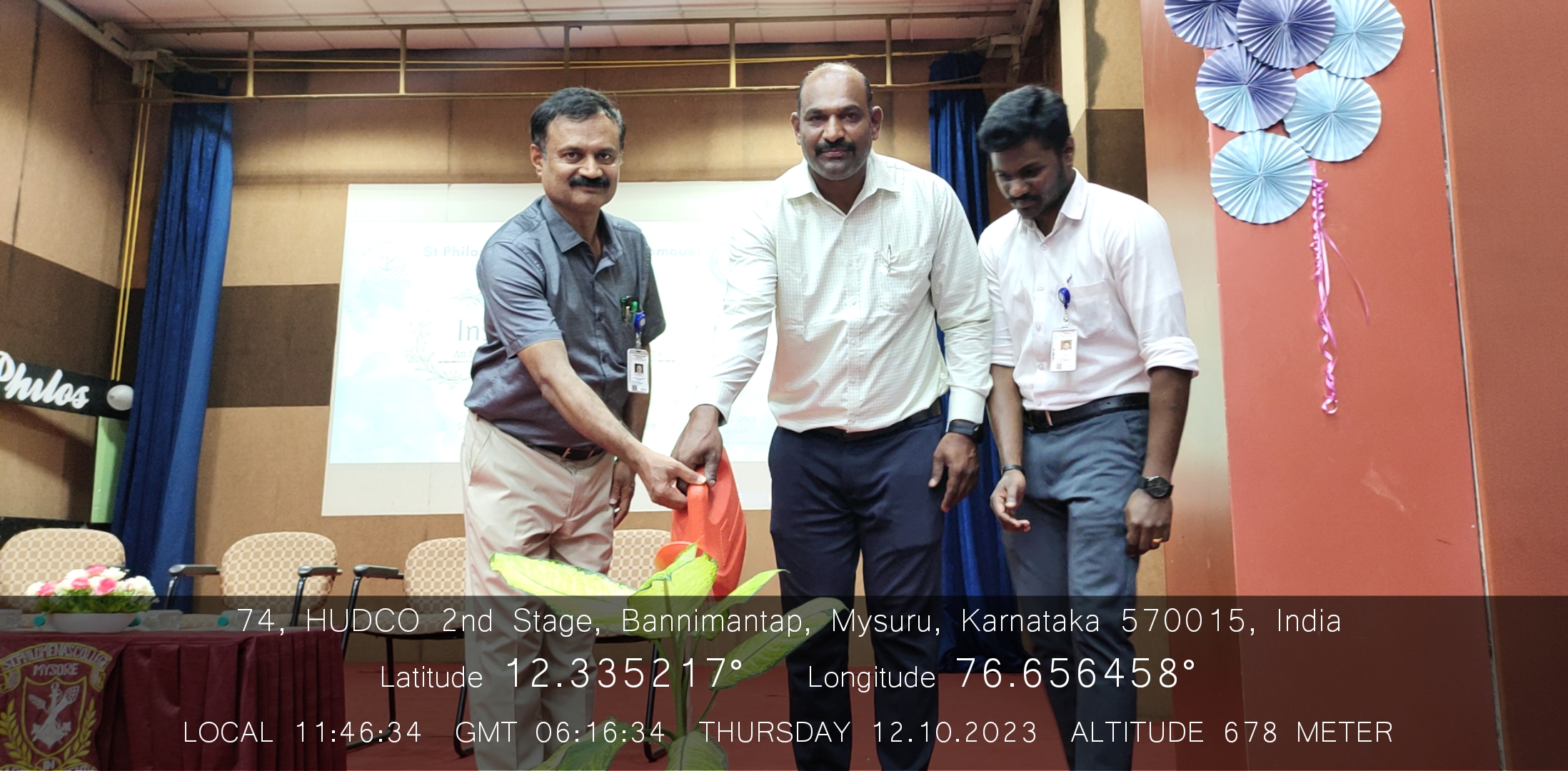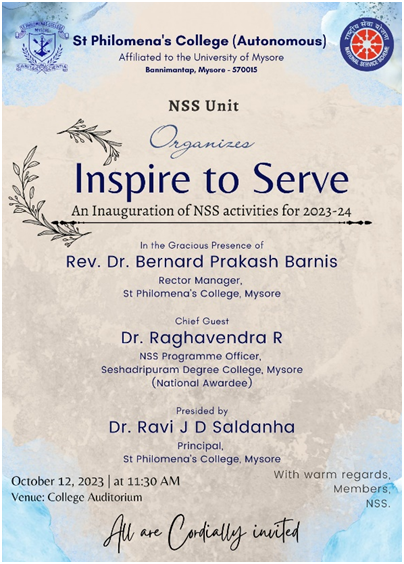 The National Service Scheme (NSS) Unit of St. Philomena's College formally inaugurated the NSS activities for the academic year 2023-24, under the theme "Inspire to Serve." This significant event was graced by the presence of esteemed dignitaries, including our Chief Guest, Dr.Raghavendra R, who holds the position of Director of Physical Education and NSS Programme Officer at Seshadripuram Degree College, Mysuru. We were also honored by the presence of Dr. Ravi J. D. Saldanha, the Principal of St. Philomena's College, and Mr. Joel J, who serves as the Head of the Department of Christianity and is the NSS Programme Officer. Additionally, the event was attended by the NSS Committee members and the enthusiastic NSS volunteers.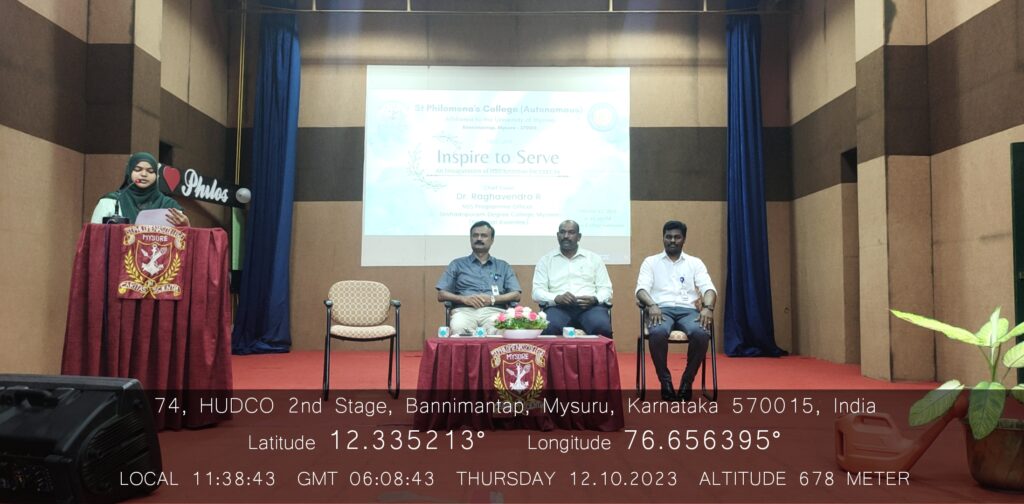 The commencement of the program was marked with a solemn prayer song, setting a reverent tone for the proceedings, which was followed by the singing of the NSS anthem. The official inauguration was carried out by our esteemed dignitaries who symbolically watered a plant, signifying the growth and nurturing of the NSS program at our institution.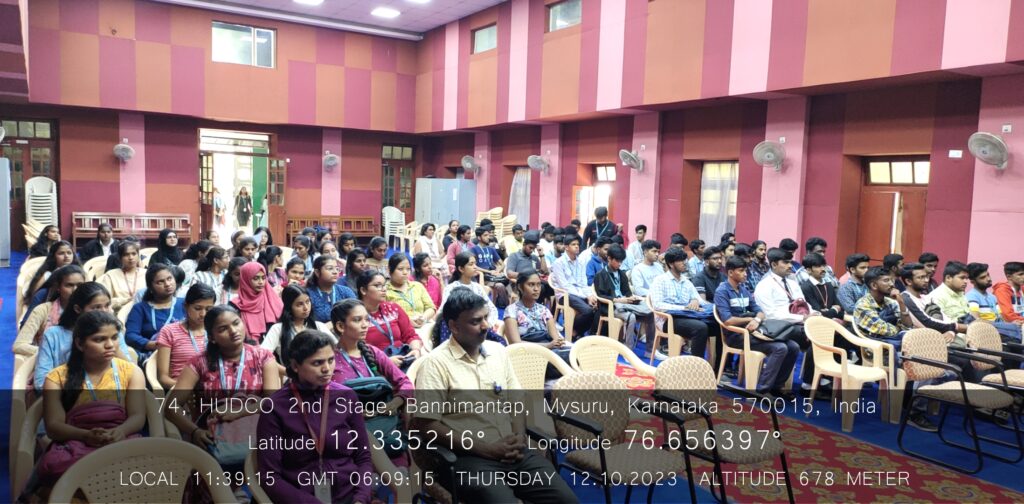 Mr. Joel J, then introduced our Chief Guest, Dr.Raghavendra R. The Chief Guest subsequently addressed the assembly, enlightening all present on the essence of the NSS and the role it plays in fostering social responsibility. Dr.Raghavendra R elaborated on the specific activities and initiatives planned for the academic year, with particular emphasis on the National Integration Camp (NIC) and the Village Camp. He underscored the transformative potential of these camps in developing the skills and character of our NSS volunteers. Encouraging active participation, Dr.Raghavendra R motivated the volunteers to wholeheartedly engage in all NSS activities.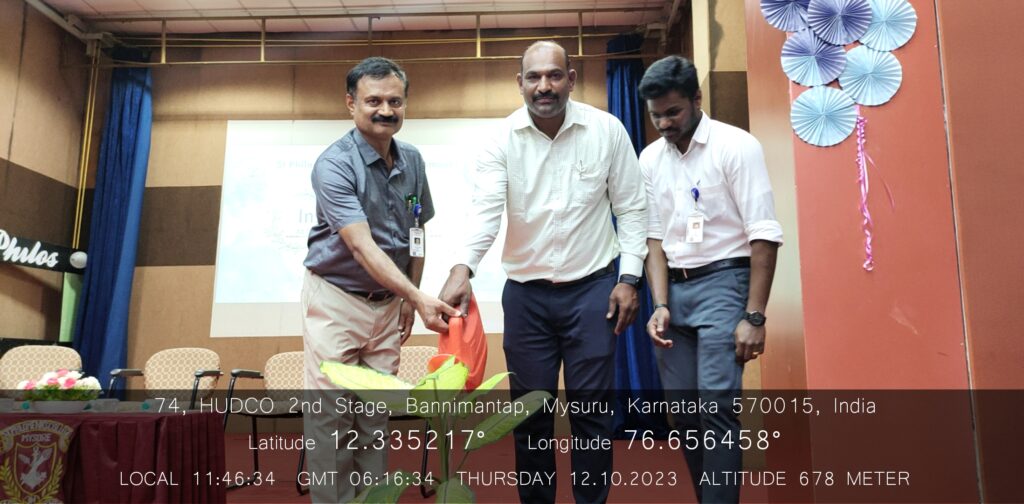 A pledge, emblematic of the commitment to the NSS cause, was recited under the guidance of the Chief Guest, reinforcing the values and principles of the NSS. Following this, our esteemed Principal, Dr. Ravi J. D. Saldanha, delivered the presidential address. He shared his vision for the NSS program and encouraged all volunteers to spearhead and engage in various social and community service activities throughout the forthcoming academic year.
Dr.Raghavendra was honored for his exceptional service, receiving the NSS State Award, the title of "Best NSS Programme Officer" at the university level in Mysuru, and the National Level Best Programme Officer award from President Smt. DraupadiMurmu on September 29, 2023. His achievements have brought pride to Karnataka and Mysore district. Also, it was a great encouragement for the newly joined volunteers.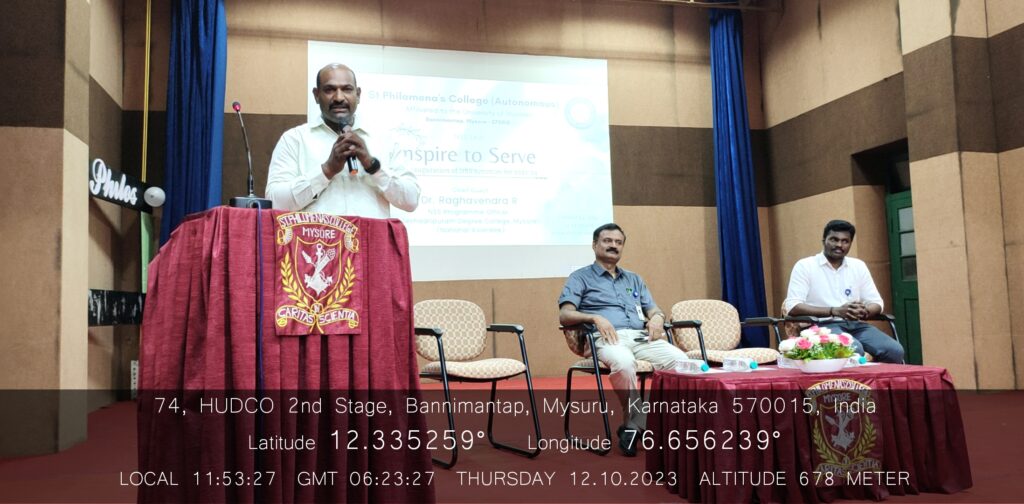 The program concluded on a patriotic note, with everyone standing in unison for the National Anthem, a symbol of unity and shared purpose. The inauguration of the NSS activities for the academic year 2023-24 was indeed a momentous occasion, setting the stage for a year filled with opportunities for service, growth, and collective impact.