Two-Day FDP on Teaching and Learning for Teaching Staff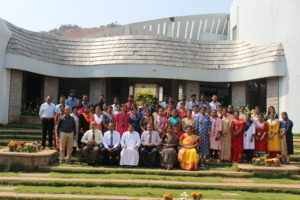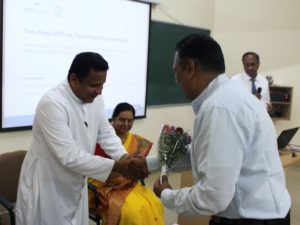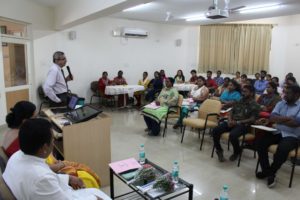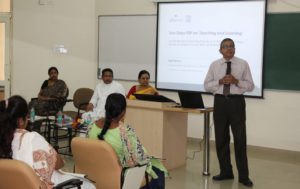 Shri DharmasthalaManjunatheshwara Institute for Management Development (SDMIMD) and St. Philomena's College, Mysore, organized 2-Day Faculty Development Program (FDP) on 'Teaching and Learning' for the faculty members of the St. Philomena's College, Mysore, during March 21 and 22, 2019 at SDMIMD Mysore. The FDP focused on introducing the advancement in course delivery and adoption of technology in teaching-learning.
Dr. R. Jagadeesh, Professor, SDM IMD, and key resource person of the program, welcomed the participants, and presented the program overview. Rev. Fr. Dr. Bernard Prakash Barnis, Rector, St. Philomena's Educational Institutions; Dr. N.R. Parasuraman, Director, SDMIMD; Dr. H. Gayathri, Deputy Director and Chairperson-Academics, SDMIMD; and Dr. Ruth Shantha Kumari T., Principal, St. Philomena's College, graced the inaugural session of the program.
Dr. Ruth said 'the role of faculty as a teacher has changed to facilitator, guide, friend, philosopher as the students have access to the rich information available in the web space. The role of the faculty demands the adoption of technology, get updated with the recent developments, be responsive to the changing requirement from industry and proactive to the educational needs of the student community, who are the key stakeholder of any educational institute'.
Dr. N.R. Parasuraman, while addressing the participants, appreciated the effort of the Internal Quality Adoption Cell (IQAC) of St. Philomena's College in offering the FDP for the benefit of the faculty members. Further, he explained the importance of such training programs at regular intervals to build the competency, efficiency and confidence among the faculty community.
Speaking on the occasion Rev. Fr. Dr. Bernard Prakash Barnis opined that education technology can help to eliminate the barriers of providing quality education. Dr. H. Gayathri appreciated the effort of both the organizing institutions in conducting the program.
Other resource persons – Dr. Sunil M.V., Librarian SDMIMD; Prof. M. Minhaj, Faculty-Systems, SDMIMD; Mr. Vinay K., Founder and CXO, PiRuby; and the IQAC Coordinator of St. Philomena's College Mr. Ronald Prakash Cutinha- were present during the inauguration.
The valedictory session and the certificate distribution to the participants was held on March 22, 2019. Prof. Agnes D'Souza Dean of Science, St. Philomena's College, Mysore, delivered the valedictory address and gave away the certificates. Further, the participants offered their feedback expressing satisfaction about the program.