Virtual Guest lecture on the topic"Indebtedness Amongst Members of Women SHGs – Causes and Solutions"
Posted by

Categories

Webinar

Date

July 16, 2021
Post Programme Summary
Virtual Guest lecture on the topic"Indebtedness Amongst Members of Women SHGs – Causes and Solutions"
Resource Person- Dr Basavaraju R Shrestha
Executive Director
Grassroots Research and Advocacy Movement (GRAAM) Mysore
Date:  July 9, 2021                                           Time: 12:30- 1:30 PM
 The Virtual guest lecture on the topic "Indebtedness Amongst Members of Women SHGs – Causes and Solutions" was organized by the Department of Sociology on  July 9, 2021 in the college.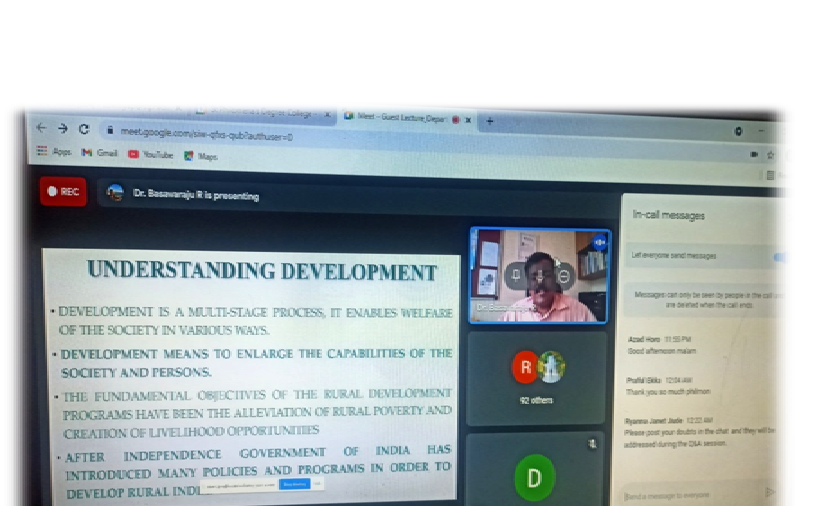 The Programme started at 12:30 pm with the welcoming of the guest by the final year student Philmon Dungdung. Dr.Sowmya P, head of the department introduced the resource person to all the participants.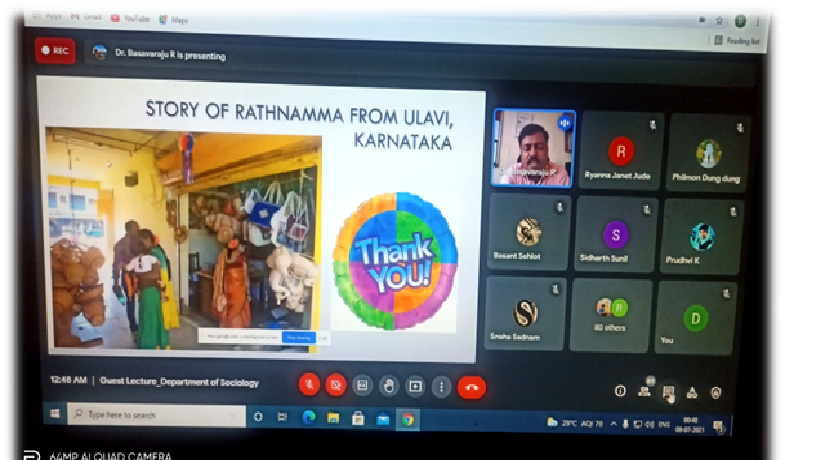 Dr Basavaraju R Shrestha, Executive Director,Grassroots Research and Advocacy Movement(GRAAM), Mysore, was the guest speaker, expertise in designing and conducting large scale multidisciplinary research and evaluation studies. Second year BA student Ryanna Janet Jude was the moderator of the Programme.
Dr Basavaraju expressed his interest in interacting with the young minds and wished to share and grab the ideas of young minds to make the society better. The speaker began his presentation with a case study related to distress story of a SHG member who is trapped in the vicious circle of indebtedness and wants to end her life. He explained the concept of development, poverty alleviation programs and poverty in the rural areas. He elucidated the role and aim of SHGs in saving money, internal lending in groups with a very low rate of interest , organizing women and  empowering them for a better standard of living.
Later, the speaker stressed on the various reasons to take loans by the SHGs groups. Based on the field survey reports the speaker shared that majority of the women advance loans for unproductive purposes, some of them take loan with a wrong notion that government may wave off their loans and are not aware of the rate of interest being charged on their loans.  Due to all these women are vulnerable to poverty and indebtedness.  The speaker stressed that women have to be educated in terms of saving habits and to face the challenging situations. The main solution Dr Basavaraju suggested was that the Rural Employment Programme should be planned to complement the livelihood promotion.
He concluded with a successful story of women who with the assistance of SHGs have established very well and have been leading a good life. During the interaction the students' questions were clarified by the resource person. The programme was concluded with a vote of thanks by the second year student Arpitha IM.