OPEN DAY @CSIR-CFTRI
Posted by

Categories

Events

Date

September 27, 2022
INTRODUCTION
CSIR-CFTRI which organized a 'OPEN DAY' marking the CSIR Foundation Day celebrations with the theme 'Food Technology – Industry Connect' which started IFTTC auditorium in CFTRI campus for the purpose of students to get a industrial field exposure on 27 September 2022.
Speaking after inaugurating the event, Dr. K.S. Sadananda, Medical Superintendent, Sri Jayadeva Institute of Cardiovascular Sciences and Research, said that food plays a key role in our health and fitness. away Pointing out that good food practices play a significant role in keeping ailments such as Diabetes, Blood Pressure and Cancer, he said that food habits, surrounding environment and stress play an important role in the maintenance of our health. Observing that consumption of quality and nutritious food matters a lot for our physical well-being, he said that the CFTRI has been doing efficient service in food science and research for improving our life, in terms of our health and fitness.
The initiative attracted big crowds as a lot of people, particularly students, turned up to observe technologies, demonstrations and products developed by the institute on its campus.
There are about 22 stalls at the Expo, which features demonstration on Biofumigation, Bio-plate casting, Clevenger Hydro-distillation, Crunchy Egg bites, Dosa making machine, Electro-spraying, Glass Blowing, Ozone Air
Disinfection, Papad Press, Ragi Mudde Mix,Spouted Bed Roaster and Spirulina cultivation (Miniaturised).
Also on display will be a variety of food making machines and equipment, research activities of R&D Department of CFTRI, especially related to the Central theme (Food Technology – Industry connect) and entrepreneurship.
A  Mobile Food Processing and Demonstration Unit (MFPDU) is a star attraction at the Expo, in which CFTRI licensees are showcasing the successful technologies of CFTRI.
CFTRI  OPEN DAY
 Students of St. Philomena's College department of chemistry and all the Life Science stream got an immense opportunity to visit the "OPEN DAY CFTRI" at 10:00 AM  on  27 September 2022 ,which was organized by CSIR-CFTRI, marking the CSIR Foundation Day celebrations with the theme 'Food Technology – Industry Connect' began at IFTTC auditorium in CFTRI campus.
The department of Bio-Chemistry, Food Science and Botany who also took part in the open day industrial visit.
Biofumigation is a method of pest control in agriculture, a variant of fumigation where the gaseous active substance—fumigant—is produced by decomposition of plant material freshly chopped and buried in the soil for this purpose. Plants from the Brassicaceae family (e.g., mustards, cauliflower, and broccoli) are primarily used due to their high glucosinolate content; in the process of decomposition, glucosinolates are broken down to volatile isothiocyanates which are toxic to soil organisms such as bacteria, fungi and nematodes, but less toxic and persistent in the environment than synthetic fumigants. Alternatively, grasses such as sorghum can be used, in which case hydrogen cyanide is produced to similar effect.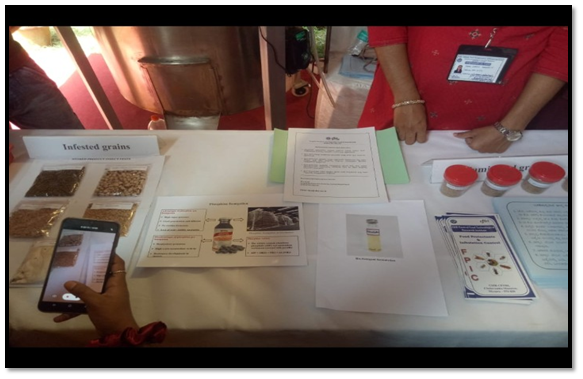 Continuously operating pressing machine for the manufacture of biodegradable plates made from plant parts. The machine particularly relates to the continuous preparation of articles such as cups as cups, saucers, plates etc. from plant parts such as leaves/sheaths. The articles thus prepared are useful for various purposes, particularly for serving food or holding food articles.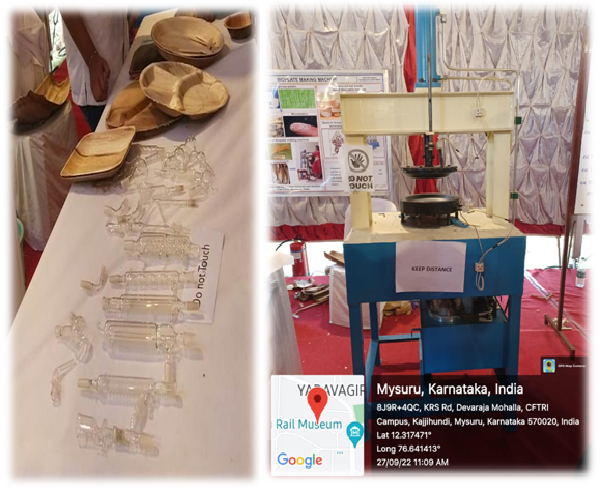 Clevenger Hydro-distillation:
 Microwave Clevenger or microwave accelerated distillation (MAD) is a combination of microwave heating and distillation, performed at atmospheric pressure without added any solvent or water. Isolation and concentration of volatile compounds are performed by a single stage. MAD extraction of orange essential oil was studied using fresh orange peel from Valencia late cultivar oranges as the raw material. MAD has been compared with a conventional technique, which used a Clevenger apparatus with hydro-distillation (HD). MAD and HD were compared in term of extraction time, yields, chemical composition and quality of the essential oil, efficiency and costs of the process. Extraction of essential oils from orange peels with MAD was better in terms of energy saving, extraction time (30 min versus 3 h), oxygenated fraction (11.7% versus 7.9%), product yield (0.42% versus 0.39%) and product quality. Orange peels treated by MAD and HD were observed by scanning electronic microscopy (SEM). Micrographs provide evidence of more rapid opening of essential oil glands treated by MAD, in contrast to conventional hydro-distillation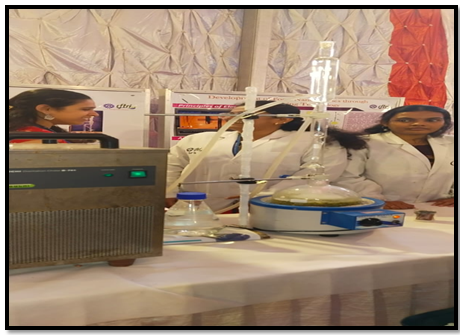 SHELF STABLE EGG CRUNCHY BITES :
INTRODUCTION:
Egg cube is a novel product made by using egg liquid (albumin and yolk), binders and
permitted additives. The mix was processed under optimized conditions and made in to pieces.
The pieces were dried under optimum conditions. The roasted product was coated with
optimized level of spices and packed under metalized pouches. The product further can be used
as a snacks.
*RAW MATERIAL:
Raw materials used are chicken egg, garlic, binders, etc.
*PLANTS AND MACHINERY:
Planetary mixer, autoclave, generator machine, cooling table, cubing/ cutting machine, tray drier/
cross flow drier, semi automatic leg/ hand operated impulse sealer, etc.
*PRODUCTION CAPACITY- (estimate):
The installed capacity 100Kg egg crunchy bites/ shift/ day and working for 300 days in a year
*TECHNOLOGY/MANUFACTURING PROCESS – Availability:
CFTRI has standardized the technology and general methods of processing of shelf stable
egg crunchy bites. Apart from this procedure for quality control, packaging and packaging
material specifications, equipment details are also provided by the institute.

a motorized dosa making machine for restaurants and hotels for bulk dosa making. The machine is made using a circular dosa making mechanism. It makes use of a rotating hot plate to make dosa within minutes.
The machine is a double platform based system. The upper rotating platform is a stainless steel platform driven by a motor. This platform rests on a castor based secondary platform for support. We here use a funnel/feeder to pour dosa batter in required amount on the rotating plate.
The platform then moves the batter through a roller to flatten the dosa to required thickness and make it crisp. The flat dosa then moves ahead slowly on the hot plate so that it gets appropriately crispy. This entire mechanism is driven by a geared motor to achieve required speed using a gearbox.
The mechanism then consists of a dosa remover that can remove the crisp dosa before it comes back under the batter feeder. The mechanism thus automates the process of dosa making using a motorized system.

Micro- and nanotechnology are tools being used strongly in the area of food technology. The electrospray technique is booming because of its importance in developing micro- and nanoparticles containing an active ingredient as bioactive compounds, enhancing molecules of flavors, odors, and packaging coatings, and developing polymers that are obtained from food (proteins, carbohydrates), as chitosan, alginate, gelatin, agar, starch, or gluten. The electrospray technique compared to conventional techniques such as nanoprecipitation, emulsion–diffusion, double-emulsification, and layer by layer provides greater advantages to develop micro- and nanoparticles because it is simple, low cost, uses a low amount of solvents, and products are obtained in one step. This technique could also be applied in the agrifood sector for the preparation of controlled and/or prolonged release systems of fertilizer or agrochemicals, for which more research must be conducted.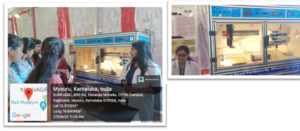 Spirulina are multicellular and filamentous blue-green algae that has gained considerable popularity in the health food industry and increasingly as a protein and vitamin supplement to aquaculture diets. It grows in water, can be harvested and processed easily and has very high macro- and micro-nutrient contents. It has long been used as a dietary supplement by people living close to the alkaline lakes where it is naturally found.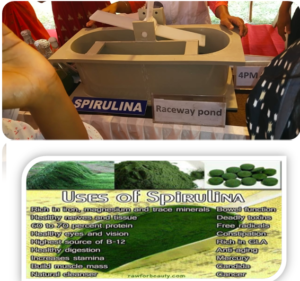 GLIPMSE OF ANALYTICAL SKILL
PRACTICES ON OPEN DAY:
       Addition of food colour to the processed food 
On OPEN DAY this was the practical analysis skill test which was executed by the CFTRI team to bring awareness to the young generation about the addition of color in the processed food contains lots of preservatives, added sugar which will harm a healthy lifestyle.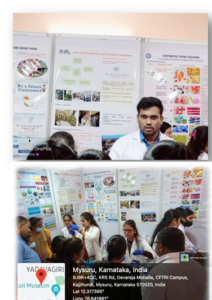 Mobile food truck which is one of the rapid economical growth aspect that helps consumer to consume as well as investors to get profit which is one of the good sign of development in the society.
The mobile food truck which is the main source of income for the young generation to earn profit.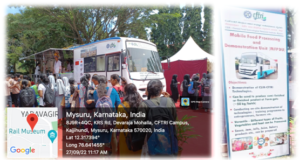 MICROBIAL FOOD SAFETY:
This current focus covers a broad range of emerging microbiological issues in food safety, from chronic effects of campylobacterosis and bacterial antimicrobial resistance to microbial survival and growth on fresh fruits and vegetables, and advanced technologies for detection and inactivation of foodborne pathogens.

                                   CONCLUSION

The industrial visit to CFTRI which gave lots of information to the students to pursue higher education in digital and equipped analytical technology that would help for the welfare of society.

The students got lot of information by the industrial visit and also students got a well-known career exposure to choose the desired fields. The information's that were executed by the CFTRI team which was very useful for the students to learn and to shine in the respective fields.