A Degree Programme With equal focus on Education and skill.
Skill-based education is more significant in the current times. Bachelor of Vocation (B.Voc) is envisaged in a way where the thrust is given on skill based application studies along with that of theoretical knowledge. This course is an ideal blend of both Skill and General Education.
The University Grants Commission (UGC) has launched a scheme on skill development based higher education as part of college/university education, leading to Bachelor of Vocation (B.Voc). However, unlike the traditional UG courses, B.Voc curriculum is often mapped with job role descriptions as per National Skills Qualification Framework (NSQF). Since the curriculum is industry and work-integrated and for some reason, if you are unable to complete the 3-year program, you can still obtain a Diploma and advanced Diploma (or equivalent) after completion of the first and second year respectively. Hence, your knowledge and skills are valued at every level and you will be qualified for a suitable job, as per market requirements. You can even explore becoming an entrepreneur in your domain
B.Voc degree is equivalent to any other bachelor's degree granted by the University Grants Commission (UGC).
B.Voc in Media & Entertainment is a 3 year programme focused on the current trends in media industry along with changing communication technologies to meet the requirements. The Programme provides an opportunity to study all the aspects related to Media & Mass Communication. Students undergo training in the Print Journalism, Photography, Visual communication, Advertising, Graphic designing, Public Relation, Technical Writing and cinematography. Department has well equipped audio-visual studio this helps students to learn multimedia production. This makes students confident to work on media platforms. As part of their curriculum students have to produce independent documentary films, short movies, radio production and advertising. The course makes it mandatory for students to undergo internship for a period of 30days to hone their skills. Internship is done in reputed media houses including Television, Radio, Ad Agencies, PR firms and many more.
Prioritizing on skill development completion of Media and Entertainment offers career with incredible opportunities in Anchoring, Reporting, Photography, Video Editing, Event planning and other arenas where communication forms the basis. Successful completion of this course makes the students eligible and efficient to pursue post-graduation, become entrepreneur or join the media houses.
 Course Description:
NSQF Level
Skill

Component

Credits

General Education

Credits

Total credits for award
Normal

calendar

duration

Exit Points /

Awards

Job Description
4
18
12
30
One Semester
Certificate
Copy Editor
5
36
24
60
Two Semesters
Diploma
Photojournalist
6
72
48
120
Four Semesters
Advance Diploma

 

Graphic Designer, Technical Assistant
7
108
48
180
Six Semesters
B.Voc Degree
Director of Photography, Reporter , Video Editor
Distinctive features
No age limit
Multiple entry and multiple exit options
More than 60% course time is spent in skill based training
The programme is credit based which covers general education and vocational skills
Fully equipped Audio-Visual studio facilities for practicals
Emphasis on Domain skills, Communication skills, Computer application and employable skills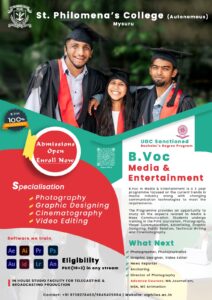 Eligibility Criteria
Pass in PUC or +2/ Diploma
Diploma holders in relevant field can take direct lateral entry admission to second year (Advanced Diploma) 
 Scope for Higher studies
The candidate will be eligible to pursue MA in Journalism and Mass Communication, MBA, MS Animation and M.Voc.
 Specialization:
 Photography
The course focuses on getting students trained in narrative photography which enables them to get a job in Newspaper or in a News agency
Graphic Designing
Training in industrial standard software like Photoshop, Illustrator, InDesign.
News Anchoring
Students will be trained for news anchoring which makes them to face the camera and provides public speaking skills to accurately and concisely deliver the news.
Radio Production
Producing various radio programmes, it includes News Bulletin, Interview and producing radio advertisements etc.
Cinematography
The course gives training in general composition of a scene, the lighting of the set or location and camera angles and shots.
Video Editing
Students will be trained in video editing software's to produce individual documentaries and video productions.
Placements:
Media Industry – Print, Electronic, Broadcasting
Entertainment Industry
Human Resource Sector
Graphic Designing Industry
Present Faculty