A novel initiative of
ROVERS AND RANGERS UNIT, ST. PHILOMENAS COLLEGE, MYSORE.
A great initiative of organizing a blood donation camp was taken by Rovers and Rangers unit of St. Philomena's College Mysore on World Blood Donor Day 14th June 2022, Tuesday at general hospital, Srirangapatna.
The blood donation program was held from 10:30 am morning. 50 Rovers And Rangers along with Rover leader Mr. Mathew C and Ranger leader Dr. Sowmya P participated.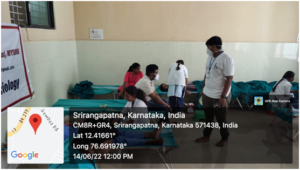 A group of 3 doctors and 10 nurses from the government general Hospital were present on the campus for conducting the camp. The donors were asked to fill a medical form to give details about their health-related information.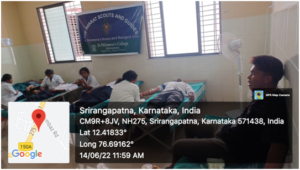 Before the donation, checking weight, pressure, and body temperature were measured so that the one donating blood does have to face further. The program was held in the vast hall of hospital building. Thanks to Dr. Prashant, the college extension activity coordinator for lending his helping hand .The one donating blood was taken to the relaxation room for the rest of a few minutes and given certificates and refreshments.