FAMILY – THE FOUNDATION OF THE SOCIETY by Mr. Naveen Lobo and Mrs. Jini Lobo
INSTRUCTOR EXPERTISE:
 Date: 03-02-2022
  Mrs. Jini Lobo and her husband, Mr Naveen Lobo work as lay missionaries in Santvana Community of Disciples and presently reside in Mysore, India. They have six children who are home-schooled. Jini is presently part of the Karnataka JY Formation team. Naveen Lobo was graduated from St. Philomena's college, Puttur. He completed his masters in Family and marriage theology from Pontifical John Paul II institute, Changanacherry, Kerala, India. Jini Lobo is an engineer.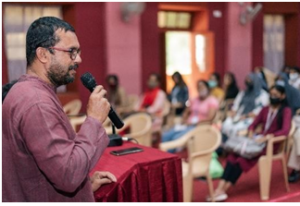 ABOUT THE SESSION:
The session was opened by Vinay Abnes, student of Christianity. He invited Sister Moksha, student of Christianity for the welcome address for the guests, Mr. Naveen Lobo and Jini Lobo. They were welcomed with bouquet by Dr. Sowmiya, Head of the department of sociology and Mr. Joel, Department of Christianity.
Mr. Naveen Lobo and Jini Lobo spoke
simultaneously about the topic. Mr Naveen Lobo, started the lecture with how family is a
foundation of the society, he talked about spouses to which Jini Lobo added her points. They stressed upon the fact that nature is the best teacher and to learn from nature.
They also shared few personal stories and client stories. Jini Lobo stated that she believes in a quote by Thomas Aquinas "Love is to will the good of the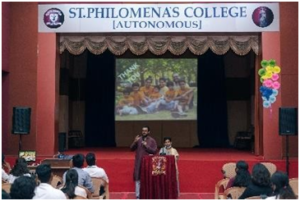 other". They also highlighted the definition of marriage, difference between a covenant marriage and a contract marriage, purpose of marriage.
They stressed on the importance of the three important primary needs of men and women in a marriage. For men, the needs are Respect, recreational companionship, and sex. For women, the needs are love, conversation, and affection.
The speakers summarized their lecture with a question-and- answer time where two of the students cleared their doubts. The lecture was interesting and thoughtful for the youth as they majorly focused on the moral values in a marriage.
The guest lecture lasted 90 minutes starting at 10:30am and
ending at 12:00pm on February 3, 2022, the guests were gifted token of love by Dr. Sowmiya, Head of the department of sociology and Mr. Joel, Department of Christianity. The session was closed by a vote of thanks by Mr. Fernandez Loriton, student of Sociology, St. Philomena's college, Mysore.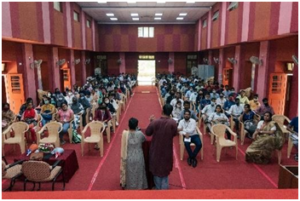 –     Ridha Habeeb N V, student of sociology.