Brief History:
Department of Commerce has been successfully producing Graduates in Commerce since 1969 with the dedicated service offered by many eminent personalities to name some of  them; Prof. Balasubramanyam (1969), Prof. K.G Ramakrishna (1971), Prof. T.A Subramanya Shetty, Prof. S. Srinivas Shetty & Prof. A. Abraham Somprakash who have contributed for the growth and development of the department.  Since 2011 the Dean and HoD of Department of Commerce is Dr. Reena Francis.
Courses offered: Department started functioning in the year 1969with a Bachelor's Degree in Commerce.During 2011 St. Philomena's College became an autonomous college and since then the department of commerce has the privilege of owning their own syllabus which was designed keeping in mind the market requirements which in turn would help a student to be market ready. During 2016department adapted Choice Based Credit System (CBCS) and offered many new soft core subjects wherein a student could choose any paper of their interest. Yet another revision of the syllabus was in 2018 where Discipline Specific Elective (DSE) and Skill Enhancing Courses (SEC) were offered to give the best option for the students not only in the field of commerce but also in other discipline .
Department of commerce feels proud to place on record the various combinations of B.Com.
1969 onwards Bachelors of Commerce (B. Com) with CA and CS
2004-2013July B.Com and BBM worked together and later BBM department became an independent department.
2016-17 onwards B. Com with ACCA
2020-21 onwards B. Com with CMA
Add-on courses along with B. Com
2013-14 SAP course
2019-20 Tally
Present Faculty:
Major events for students:
As a part of the overall development and well being of the students the Department of Commerce provides various platforms for the students to showcase their leadership skills.  As a part of this exercise one such platform is organizing the Commerce and Management Fest "INCREDEMA"
Brand INCREDEMA (a fest) is a platform for the students of Commerce and Management to show case their leadership skills where they are exposed to the realities of Planning, Organizing, Coordinating, Commanding and Controlling real time activities. The students raise funds from sponsors and implement their ideas as events. Their role in the team as Chief Coordinator, Coordinator and Volunteers helps them execute their vision and ideas in the form of various events. The events are divided into Core and Non-Core events.  Some of the popular Core events and Non-Core events are Best Manager, Best Entrepreneur, Finance, Human Resource, Marketing, E-Commerce events, Circuit Workout (Gym), Gaming, Photography, Ramp Walk, Group Dance, Treasure Hunt and Cooking Without Fire.
The students of Commerce Department are encouraged to participate in various Fests, Workshops, Seminars, Webinars and Sports events at City, State, National and International level.  We recognize our achievers
One of our outstanding student is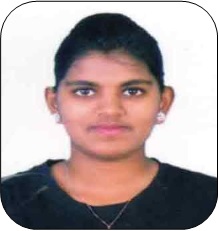 Lellian Christina a Final year B.com studentwonthe Bronze medal at Asian Pacific ShitoryaKaratedoFederation  (APSKA). She was selected to represent India at the 15thSouth Asian – APSKA championship at Jakarta, Indonesia.She has also secured the First Prize in the Women Karate Kata event in the 18th to 39 years category, Mabuni Cup held at ChamundiVihar Stadium Mysuru from 25thto 26th August 2018.
She has several certificates as referee,judge and coach which she represented.
Our students have won prizes in various competitions at inter collegiate fests organized by Colleges across Mysore City. Students have learned to adapt, excel and compete using creativity, problem solving and technical skills to overcome their challenges.
The Department encourages participation of students in workshops to help students acquire broader perspective and increase their ability to learn and adapt to their environment.
The Department of Commerce as a part of their extension activities encourage students to extend their empathetic attitude towards the society.. As a result  students have visited -"Home For Little Boys"  Lashkar Mohalla Mysore, "Mercy Convent For Deaf And Dumb'' Srirampur  Mysore, "Vimala Terminal Care"  Hinkal Mysore, "Donbosco Orphanage'' Kuvempunagar Mysore.
Achievements of the department:
The Department has initiated and organized a series of webinars for faculties and students. The webinars were organized at National and State level with diverse topics from Opportunities in Career and Higher Education to Stress Management.
The Department has also signed up MOU's for ACCA, CMA, SAP and Tally to facilitate students choose from a spectrum of choices for a professional qualification.
The Department also actively conducts Fests, Extension activities, Seminars, Workshops etc for the overall development of the students.
Future plan of the department:
To have a separate computer lab for commerce students and introduce more practical based papers.
To involve all B.Com students in extension activities.
To introduce some more add-on courses.
To have few more MOU's for professional courses.
To provide internship facilities to final year students.
To involve students in research work from the 1st semester onwards.